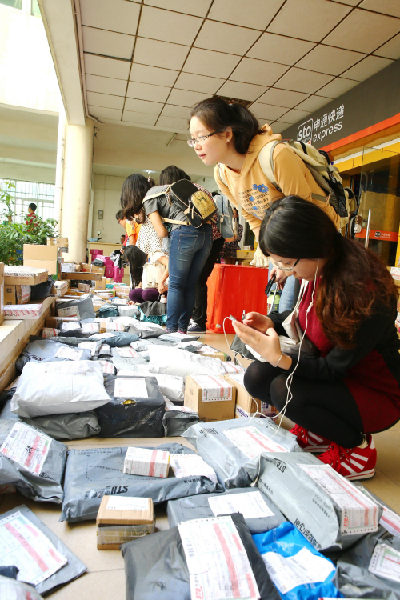 SHOPPING SEASON: College students, mostly female, look for parcels delivered to them in Hainan University, south China's Hainan Province, on November 17, 2014, after a Singles Day shopping spree on November 11, China's premier online sales bonanza (CFP)
Liu Ying, 28, is a website editor living in Beijing and has been a hardcore online shopper since 2008. Each year, she spends more than 20,000 yuan ($3,200) online on items including cosmetics, clothes and groceries.
"I prefer online shopping because it's cheaper and more convenient, sometimes with discounts that you will never see in physical stores," Liu told Beijing Review. "Also, in a big city as Beijing, it would take several hours to commute back and forth between my home and the shopping mall. Shopping online saves me a lot of time. Now, I only go to brick-and-mortar stores when I want to kill time."
Online shopping doesn't just mean computers anymore, as Liu can use a variety of devices to shop 'til she drops.
"I usually use mobile devices to browse those shopping sites, such as my cellphone and my iPad," she said. "Shopping online has become so popular in China that even elderly people like my parents are frequent online shoppers."
The whirlwind of online shopping has swept the nation with the world's largest group of netizens, and female shoppers seem like a group that retailers can't afford to ignore. With rising independence and economic power, Chinese women control an increasing number of household purchasing decisions and show a passion for online shopping, according to the Report on Female Consumers in Asia by the Economist Intelligence Unit (EIU), an advisory company under the Economist Group.
Rise of female shoppers
On the rise and online--this is how EUI describes female consumers in Asia, especially women in China.
The report is based on a survey of 5,500 women across major cities on the Chinese mainland, in Hong Kong, Taiwan and Macao, as well as countries including India, Japan, Singapore and the South Korea.
Chinese women have the largest amount of independence in handling their finances, with 76 percent of them having their own bank accounts, much higher than other Asian areas surveyed.
"Women are controlling spending in a variety of categories where you would expect them to, such as clothing and accessories, cosmetics and groceries. But they also have an increasing influence in bigger ticket items such as electronics. Many brands are realizing this and making efforts to better understand what is important to female consumers," said Laurel West, editor of the EIU report.
Nearly half of the women polled agreed that they preferred the experience of shopping online to doing so in brick-and-mortar stores. The preference for online shopping is more obvious among women from the Chinese mainland, with 69 percent of them claiming they prefer online to offline shopping, much higher than other regions such as Hong Kong, Singapore and Japan.
According to a report on China's e-commerce market from Bain & Co., a leading management consulting firm, online business-to-customer (B2C) retail will grow 25 percent annually in China, three times the growth rate of traditional retail industry.
Chinese consumers' growing preference for online shopping is largely driven by the country's efficient logistics system, online payment system and innovation as well as investment from heavyweight e-commerce players.
"China has a unique and powerful online payment system and infrastructure network, which is on par with that of developed markets. This paves the way for the development of e-commerce in China," says the report.
Another interesting finding of the EIU report is that Chinese women don't seem to be living up to the stereotype of selfless and family-focused individuals.
Over 74 percent of women on the Chinese mainland are buying for themselves most of the time when shopping online. They do, however, engage in guilt shopping--67 percent of them said they would buy something for their partner, children or family when they feel they have bought too much for themselves.
The EIU report was commissioned by Vipshop Holdings Ltd., the largest online discount retailer for brands both in China and globally, as well as a leading female-oriented vertical e-commerce retailer in China.
"Women are a unique and important driving force in the Asian market. And at Vipshop, over 80 percent of the accumulative 90 million members are women, who contribute to 90 percent of our sales," said Eric Shen, Chairman and CEO of Vipshop.