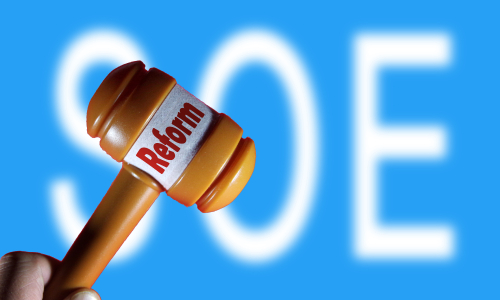 (CFP)
The reform of state-owned enterprises (SOEs) is expected to speed up. As its top-down design emerges, China may make significant steps forward in the SOE reform this year, and the reform may be carried forward across the country, said Peng Jianguo, Deputy Director of the Research Center of the State-Owned Assets Supervision and Administration Commission of the State Council (SASAC).
The Central Economic Work Conference held in December 2014 required that the reform of SOEs must be targeted at improving their vitality, efficiency and core competitiveness of SOEs. It also detailed that they must establish a modern corporate system.
Liu Xiaoxuan, Deputy Director of the Department of Microeconomics of the Chinese Academy of Social Sciences, told the 21st Century Business Herald that the present reform of SOEs advances slowly.
Ji Xiaonan, chairman of boards of supervisors of large key SOEs at SASAC, also thinks that the current absence of a guideline has impeded the progress of SOE reform.
Chu Xuping, Director of the SASAC's Research Center, said some SOE reform schemes may be publicized before the Chinese Lunar New Year, which falls on February 19 for this year.
Peng said SOEs showed enthusiasm for reform in 2014, and they have made some preparations in investigation and framing reform plans. Once the scheme is issued, SOEs directly under the management of the SASAC may soon begin operations. More companies will be included into the pilot program of mixed ownership reform in 2015.
Local reform plans
Previously, without a national-level scheme, local authorities could hardly make breakthroughs in the reform of SOEs, said Peng. But this year, the reform may be carried out throughout the country.
According to the 21st Century Business Herald, 22 provinces and municipalities have issued guidelines on the reform of SOEs, and some provincial capitals, such as Nanjing and Changsha, have also issued documents guiding SOE reform.
Most of their guidelines focus on issues such as mixed ownership, classified supervision, stock incentive compensation, employee stock ownership, corporate governance structure and establishment of state-owned asset investment companies. Most of the provinces and municipalities have set up detailed targets for reform.
For instance, in the issue of mixed ownership, Gansu Province proposes that mixed ownership account for 60 percent of the state-owned economy by 2020, and Jiangsu Province proposes the proportion reach 70 percent within five years.
Beijing requires that by 2020, more than 80 percent of the state capital must be concentrated on providing public services, strengthening infrastructure construction, developing strategic industries, protecting the environment and safeguarding people's wellbeing. Shanghai, Jiangxi, Gansu, Jiangsu, Chongqing, Sichuan and Qinghai all require that more than 80 percent of state capitals must be put into key sectors.
Mixed ownership
SOE reform may be delayed due to some disputes in key sectors. Whether mixed ownership reform should first be carried out in well-performing SOEs is a major one.
Chen Qingtai, former Deputy Director of the Committee for Economic Affairs of the Chinese People's Political Consultative Conference, said the country must take the opportunity of developing mixed ownership to improve corporate competitiveness with both the resources of SOEs and the vitality of private enterprises. Through the introduction of new investors, industries of natural monopoly can separate competitive businesses, and effective corporate governance can be established in both SOEs and private enterprises via mixed ownership.