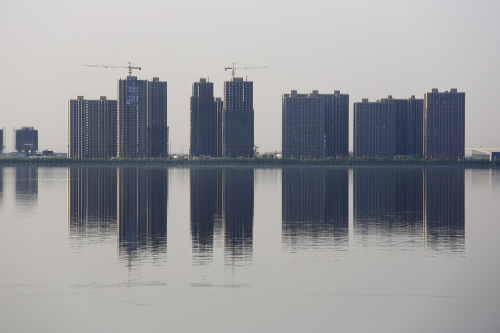 REFLECTING ON POSSIBILITY: A property project under construction in Jiujiang, Jiangxi Province (LIU CAIZHEN)
"Real estate regulation" and "purchase limit," once considered keywords in the property industry, were not mentioned for the first time in eight years at the 2014 annual conference on housing and urban-rural development, suggesting that the Central Government may not introduce significant new regulations in the real estate market in 2015.
This year, property market regulations will be phased out, though local governments may issue more policies to rescue the market. Property developers are trying to reduce inventory and diversify their businesses.
Policies relaxed
Thanks to a loosening in the limits of home purchase and preferential home mortgage loans, the previously gloomy real estate market rallied at the end of 2014. According to a survey made by China Real Estate Index System (CREIS) in December 2014, housing sales in Chinese major cities rose by 21.22 percent on a monthly basis and 9.79 percent higher over the same period in 2013.
At present, home purchase limits only exist in five cities, namely Beijing, Shanghai, Guangzhou and Shenzhen of south China's Guangdong Province, and Sanya, south China's Hainan Province.
"Home prices in the first- and second-tier cities are likely to continue dropping. As the real estate market stagnates and government policy changes to support housing credit, we expect that the five cities that still have home purchase limits will lift the restrictions. We also expect both central and local governments to unveil more policies to rescue the market," said Ni Pengfei, Director of the Center for City and Competitiveness of the Chinese Academy of Social Sciences (CASS).
On the last day of 2014, the Beijing Municipal Government announced it would increase the ceiling of housing public accumulation fund loans from 800,000 yuan ($128,824) to 1.2 million yuan ($193,237), allowing first home buyers who acquire a property not exceeding 90 square meters to apply for as much as 1.2 million yuan of loans as of January 1, 2015. This indicates that the first-tier city has begun relaxing property restrictions.
The Central Government has also taken action. On September 30, 2014, to avoid sharp slowdowns in the real estate market, a joint announcement by the People's Bank of China (PBC) and the China Banking Regulatory Commission eased lending rules for home buyers, allowing banks to offer a maximum 30-percent discount to first-time home buyers, a group that has expanded to include those who already own one property but have paid off their mortgage. On October 9, 2014, the Ministry of Housing and Urban-Rural Development (MOHURD), the Ministry of Finance and the PBC jointly issued a document, requiring that conditions be relaxed for housing public accumulation fund loan applications. On October 29, the State Council reemphasized housing credit support, and on November 21, the PBC announced the first interest rate cut in more than two years.
In the meantime, local governments have also issued measures such as subsidies and tax cuts to stimulate the property market.