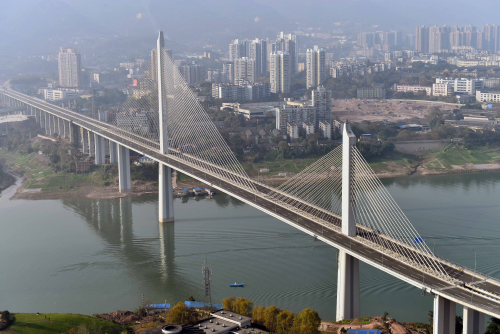 OFFERING AN EASY PASSAGE: Shuangbei Bridge crossing Jialing River in southwest China's Chongqing passes final acceptance of construction on January 10 and will be open to traffic soon (ZHOU HUI)
China is expected to maintain an economic growth rate of 7-7.5 percent in 2015, predicted Chinese economists at the sixth annual economic forecast hosted by the National Committee on U.S.-China Relations and Peking University's China Center for Economic Research (CCER) on January 7 in New York City. Corrie Dosh, Beijing Review's contributing writer, covered the event. Her report follows:
Despite a "difficult" past year of falling real estate prices, increasing defaults and ballooning local government debt, China has continued to defy the worst economic forecasts of doomsayers.
Fears of economic instability have been stoked by a deceleration in the economic growth rate of the country since 2010, said Justin Yifu Lin, professor and founding director of CCER and former chief economist and Senior Vice President of the World Bank. Naysayers expect numerous problems such as pollution, debt and income inequality to continue to create downward pressure on growth.
Why are so many critics pessimistic about the outlook for China's economy? There are four obstacles that are making people unhappy at present, Lin said. Income disparities and corruption are making the poor unhappy, industrial pollution is making the rich unhappy, and the persistence of a relation-based society vs. the rule of law is making foreigners unhappy. "That is why even though the economic growth performance has been so good over the past 35 years many people think the economy is about to collapse," Lin said.
According to Lin, the social and economic problems in China in part owe to the gradual approach the government has taken in transitioning from a planned economy to a market-based economy. Income disparities have arisen from protections and subsidies, which have also fostered pricing distortions, corruption and bribery. Lin claimed the pollution that has plagued the country with the rise of the manufacturing economy will ease with a transition to a service-based economy, and pointed out that currently government policy has increased regulation on polluters.
China is taking the right measures to tap into its growth potential, Lin stated, and will continue to be the main engine of the global economy. The economist said that as its economy matures beyond labor-intensive industry, China will become a main contributor of foreign direct investment, providing a window of opportunity for industrialization in lower-income countries, including those in Africa. China's consumption will continue to increase with rising incomes. It already accounts for one third and 25 percent respectively of the global luxury goods and car markets.
Rebalancing growth
Lu Feng, Director of CCER's China Macroeconomic Research Center, said the past 10 quarters of deceleration to less than 8-percent annual economic growth is due to accumulated imbalances of the previous decade of rapid growth. "Just like a runner needs to slow down to conserve and recover energy, China's economy is settling into a more sustainable pace."
The Chinese Government has already taken steps to address the imbalances, including cooling down the housing market, reducing excessive leveraging of corporations and local governments and reshaping market expectations of an instant government bailout if things go south. The country is now in the final stages of adjustment to resolve the imbalances, Lu said, and economists have seen the "light at the end of the tunnel."
Short-term problems like local government debt and real estate bubbles are one reason for reform, said Tang Min, an economist and Executive Vice Chairman at YouChange China Social Entrepreneur Foundation, and longer-term problems like an aging population and deteriorating environment also need to be addressed to avoid an economic "time bomb."