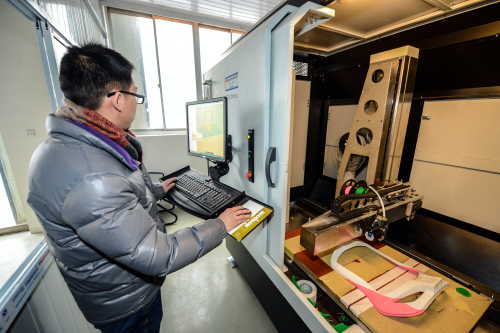 HI-TECH CONVENIENCE: A worker prints the back of a chair with a 3D printer in Anji, east China's Zhejiang Province, on January 15 (XU YU)
China's economy grew at a rate of 7.4 percent in 2014 amidst its painstaking efforts to carry out structural reform, cut outdated production capacity and promote innovation.
"China has surmounted tremendous pressures and challenges to realize the goal of maintaining its growth rate around the 7.5-percent target," said Ma Jiantang, Commissioner of the National Bureau of Statistics (NBS), noting that such a growth rate is quite hard-won against the nation's massive economic aggregate--63.6 trillion yuan ($10.4 trillion).
Although the economy has shifted into low gear compared with the double-digit growth of previous years, Chinese people have benefited from the low price level and efficient job creation, said Ma. According to statistics from the NBS and the Ministry of Human Resources and Social Security, China's consumer price index (CPI) rose 2 percent in 2014, and a total of 13.22 million urban jobs were created, far exceeding the target of 10 million.
"The economic environment will remain complicated in 2015. Externally, some developed economies are experiencing a recovery. Domestically, uncertainties and contradictions are interwoven," said Ma. "However, there are still many favorable conditions for China to maintain medium-to-high growth in 2015."
Industrialization, informatization, urbanization and agricultural modernization have laid a solid foundation for the steady growth of China's economy in 2015. As millions of people surge into urban areas, the efficiency of resource allocation will improve, hopefully creating greater market demand, said Ma.
Opening up and reform will continue to stimulate inexhaustible entrepreneurial enthusiasm, which is the main engine of stable growth. Reducing government intervention and relaxing market access will mobilize the 900 million labor and scientific and technical personnel to innovate and start businesses, said Ma.
Enhanced quality
Despite a slowdown in growth speed, a focus has been laid on elevating the quality and efficiency of economic growth.
Annual labor productivity reached 72,313 yuan ($11,647) per capita, up 7 percent from the previous year. Energy consumption per unit of GDP was reduced by 4.8 percent, according to Ma.
"As economic structural reform advances, and growth model and resources allocation continuously improve, the slowdown seems inevitable," said Yu Yongding, an expert with the Chinese Academy of Social Sciences.
Yu offered an example. More than 20 percent of China's total steel production capacity is laid idle, and in Hebei Province alone, there are more than 300 steel mills. Shutting down these factories would lead to GDP growth decline, but it doesn't mean green GDP would drop.
Yu's point of view echoes that of Liu Kegu, former Deputy Governor of China Development Bank, who believes GDP growth at around 7 percent is what it originally ought to be, because China used to excessively fix its eyes on growth speed rather than quality and people's livelihood. "Part of the investment in jacking up GDP growth should have gone toward eliminating environmental pollution, improving people's living standards, securing employment, or promoting health care and education," said Liu.
China's economic growth has gradually broken its excessive dependence on real estate investment, said Qu Hongbin, chief economist of HSBC in the Greater China region. The construction area of newly built homes dropped 10.7 percent in 2014 and land purchases made by real estate developers fell by 14 percent from the previous year, according to statistics from the NBS.
Improved structure
The expanding proportion of the service industry indicates that the service industry is replacing the manufacturing industry to become the main engine of China's economy, said Ma.
The added-value of the service industry accounted for 48.2 percent of the total GDP in 2014, up 1.3 percentage points and 5.6 percentage points higher than the manufacturing industry; the added-value of the service industry grew 8.1 percent, faster than the 7.3-percent growth registered by the manufacturing industry and the 4.1-percent growth registered by the primary industry, according to statistics from the NBS.
Qu stated that since the service industry best creates jobs, such an adjustment in industrial structure will stabilize employment and facilitate ongoing economic reforms.
While traditional industries, heavy chemical and bulk raw materials industries struggled with endless difficulties in 2014, emerging industries like mobile Internet gained momentum, implying that China's economy is aggressively edging up along the value chain, said Ma.
"The service industry as well as Internet-related emerging industries and hi-tech industries are growing, while high energy-consuming industries are also growing--just at a slower pace," said Ma.
According to statistics from the NBS, the hi-tech manufacturing industry expanded 12.3 percent in 2014, 4 percentage points faster than the growth of value-added output of industrial enterprises; meanwhile, the equipment manufacturing industry grew 10.5 percent, 2.2 percentage points faster than the growth of value-added output of industrial enterprises. In addition, online retail sales increased by 49.7 percent, and the volume of express delivery increased by a whopping 51.9 percent.