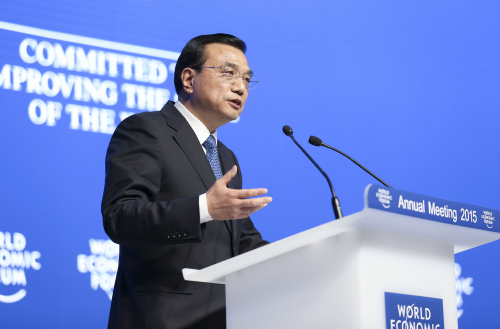 EXPLAINING CHINA TO THE WORLD: Chinese Premier Li Keqiang delivers a keynote speech at the World Economic Forum annual meeting in Davos, Switzerland, on January 21 (CNSPHOTO)
On the quiet afternoon of January 21, a conference hall at a picturesque northern European town was filled with an audience eagerly awaiting a speech on one of the most pressing issues in the world: China's economic slowdown and its consequences.
"The Chinese economy is not heading for a hard landing," the country's Premier Li Keqiang reassured attendees of the World Economic Forum (WEF) annual meeting when delivering a keynote speech at the forum, which was held in Davos, Switzerland, from January 21 to 24, under the theme the New Global Context.
During the speech, the Chinese premier elaborated upon his views on global affairs and discussed China's economic situation, including measures on deepening reform and structural rebalancing.
China has become the world's second largest economy. With such a big base, even 7-percent growth means a larger increased amount in the GDP than the 10-percent growth of five years ago, Li said.
"China's growth is backed by its 50-percent high saving rate, and 70 percent of local government debt is used for infrastructure construction. The financial reform is ongoing. China will not have regional or systematic financial risks. A hard landing of the economy won't happen," the Chinese premier argued.
China will continue to push ahead with its reform in key areas in 2015, with the priority being properly handling the relationship between the government and the market, Li said.
"The biggest stimulus for China's economic growth lies in people's pursuit of a better life as well as the reform and opening up," Li said.
He promised that China will carry out deeper and wider reform in its administrative approval system to stimulate market vitality and create a better environment for fair competition.
China will advance its ongoing reform in fiscal, tax and key financial areas, Li pledged, adding that the country is set to further relax foreign investment access and open its service industry wider to the outside world.
For the Chinese economy to maintain medium-to-high speed growth, Li said, China must fully unleash the potential of the market.
"To foster a new engine of growth, China needs to encourage mass entrepreneurship and innovation, and mobilize the wisdom and power of the people," Li said.
Over 2,500 participants from more than 140 countries, regions, international organizations, academia, civil society and the media attended the WEF annual meeting to discuss issues like the global economy, environmental protection and non-traditional security.
"China" was undoubtedly a buzzword in the annual gathering. How China, the world's most dynamic economy, lives up to its role in driving the global economy and how the world judges its reform became a focus of this year's forum.
China has sent its highest-level delegation since 2009 to Davos to attend the WEF annual meeting in an effort to boost its presence in global affairs and strengthen market confidence amid an economic downturn.
The Chinese delegation, led by Li, consists of top government officials, economists and business elites including Jack Ma, founder and Executive Chairman of U.S.-listed e-commerce giant Alibaba, and Ren Zhengfei, President of Huawei Technologies, a leading information and communications technology solutions provider.
"The outside world has pinned high hopes on the Chinese economy amid slow global economic recovery and a lack of growth points. Premier Li's elaboration on China's economic policies and demonstration of China's courage to carry out more reforms have made the world better understand the Chinese economy and strengthened the international community's confidence in China's economic outlook as it undergoes structural changes," said Chen Fengying, a research fellow at the China Institute of Contemporary International Relations.
Slowdown in check
Despite an obvious slowdown, China's economic growth is still impressive compared to other countries. The economy grew 7.4 percent in 2014.
According to the World Bank's Global Economic Prospects report, the global economy is projected to expand by 3 percent in 2015, up from the estimated 2.6 percent in 2014. The World Bank forecasted that China, which is undergoing a carefully managed slowdown, may grow at a continuously robust speed of 7.1 percent in 2015.