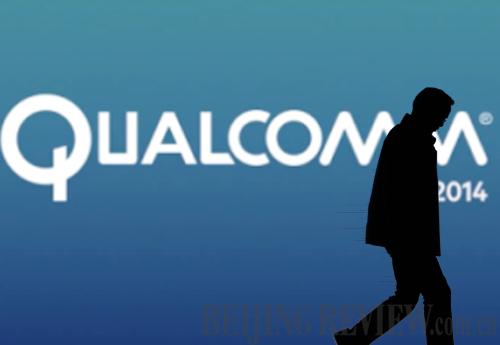 FOUL PLAY: A man walks past a Qualcomm advertising logo. The U.S. integrated circuit maker has been handed a record-high fine by the Chinese Government for anti-competitive practices (CFP)
The National Development and Reform Commission (NDRC) announced on February 10 that American company Qualcomm Inc., the world's largest integrated circuit (IC or "chip") maker, will be fined 6.09 billion yuan ($975 million) after a 14-month investigation. The fine amounts to 8 percent of Qualcomm's sales revenue in China in 2013.
One of the key reasons for the penalty is the unfair and excessively high royalties Qualcomm collected from Chinese smartphone makers. "Qualcomm refused to provide a patent list to its customers in China and out-of-date patents were included in the licensing package and charged," the NDRC said in the statement on February 10. Other major breaches of the Chinese anti-monopoly law include product bundling and adding unreasonable conditions to the sale of baseband chips.
"Qualcomm's actions have precluded and restricted market competition, impeded and restrained technology innovations and development, and damaged interests of customers," said the NDRC's statement. "This has violated the Anti-Monopoly Law of China, which prohibits market players holding a dominant market position from abusing the position by selling products at unfairly high prices, implementing tie-in sales or imposing other unreasonable trading conditions without justifiable causes."
Qualcomm said in a press release on the same day that it will not pursue further legal proceedings contesting the NDRC's findings, and has agreed to implement a rectification plan that modifies certain business practices in China and fully satisfies the requirements of the NDRC's order.
This marks the highest monetary penalty since China's Anti-Monopoly Law came into effect as of 2008. According to Xu Kunlin, Director General of the NDRC's Bureau of Price Supervision and Anti-Monopoly, the NDRC and various provincial price-supervising authorities fined a total of 1.8 billion yuan ($288 million) for price monopolies in 2014, up by 50.7 percent from a year ago. This means the penalty Qualcomm will pay is three times the total fine China collected for price monopolies last year.
Wang Junlin, head of Yingke Law Firm's Antitrust and Anti-Unfair Competition Committee thinks this penalty demonstrates the NDRC's determination to implement the antitrust law, but it doesn't change Qualcomm's profit model.
"Is Qualcomm's model of calculating royalties on the basis of whole devices reasonable? Is there price discrimination between China and foreign countries? All these issues need to be further investigated," said Wang. "If Qualcomm has indeed abused its market ascendancy, related parties may report it to the supervising authority or raise litigations."
The investigation
Qualcomm has a history of accusations by other companies to the NDRC regarding its hold over the chip industry, including two U.S. companies in 2009, a U.S. company in 2014 and a handful of Asian entities, including the China Communications Industry Association, which filed seven accusations of monopoly against Qualcomm.
In mid-November 2013, investigators raided Qualcomm's China headquarters in Beijing and its Shanghai office. On December 13, the NDRC announced it was investigating Qualcomm under monopoly charges. The company quickly fought back, arguing their behavior abides by Chinese laws.
In May 2014, Qualcomm denied its monopoly status in a report. In July, top executives of Qualcomm visited the NDRC. After a meeting, Qualcomm changed its tone, saying that it was under monopoly investigation. During the process of investigation, the NDRC held 28 meetings with Qualcomm.
The NDRC said in the February 10 statement that after investigation and analysis, it has proven that Qualcomm has market ascendancy in standard-essential patents licensing for CDMA, WCDMA and LTE, and it abuses this position.
"Our purpose is to maintain fair competition in the industry. Some practices have hindered the innovation capability of other companies. This is not beneficial for the industry or its customers," said Xu on February 10.