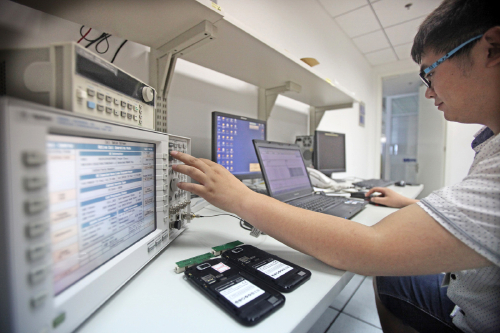 CHIPS AT THE TOP: A technician checks the 28-nanometer chips for mobile phones produced by Spreadtrum Communications (Tianjin). This chip reaches internationally advanced levels (XINHUA)
Chinese companies are changing their interests from oil and gas resources into nail-size chips. As the global chip industry remains in the doldrums and China is issuing various favorable policies, Chinese chip industry is bracing significant opportunities for takeoff.
Trendsetters
Since 2014, Chinese firms have been buying more foreign integrated circuit (IC), or chip, companies.
In May 2014, STATS ChipPAC Ltd., a leading service provider of advanced semiconductor packaging design, assembly, test and distribution solutions headquartered in Singapore, disclosed that some companies were offering to buy but didn't specify the names of the buyers. When disclosed later, the buyers turned out to be two Chinese firms, Jiangsu Changjiang Electronics Technology Co. Ltd. and Tianshui Huatian Technology Co.
In August, California-based OmniVision Technologies Inc., an image censor chip supplier for iPhones, announced the receipt of a non-binding acquisition proposal worth of $1.67 billion from a Chinese consortium. The investment group was led by Beijing-based Hua Capital Management Ltd. and included Shanghai Pudong Science and Technology Investment Co. Ltd.
On December 23, Jiangsu Changjiang Electronics Technology Co. Ltd. announced it was entering into a co-investment agreement to form an investment consortium with Siltech Semiconductor (Shanghai) Co. Ltd. and National Integrated Circuit Industry Investment Fund Co. Ltd. in connection with the proposed acquisition of STATS ChipPAC Ltd.
A Bloomberg report on December 3, 2014 said Chinese companies spent almost $5 billion in five major chip-related takeovers in the past 18 months.
According to a report of Economic Information Daily, chips have been the most imported products by China for more than 10 years.
Serving as the "heart" of all electronic devices, chips are widely used in computers, consumer electronics, network communications and automobile electronics. According to a research by the International Monetary Fund, a semiconductor chip with production value of $1 translates into $10 in growth for the related information industry, and adds $100 to a country's GDP.The chip industry is crucial to both stimulating economic growth and ensuring information security and national security.
Various countries and regions, including the United States, Europe, Japan, South Korea, Singapore and Taiwan, regard the chip industry as a major strategic one and invest heavily in the industry, said the Economic Information Daily report.
Policy support
A series of favorable policies issued by the State Council since 2014 have encouraged Chinese companies make overseas acquisitions.
On June 24, 2014, the State Council published a set of rules called the National Guidelines for the Development and Promotion of the Integrated Circuit Industry, proposing eight major measures, such as putting in place a special national industry investment fund, to stimulate the dynamism and creativity of IC companies and accelerate the pace of China's IC industry to catch up with international leaders.
On October 14, the Ministry of Industry and Information Technology announced the establishment of a national IC industry investment fund worth 120 billion yuan ($20 billion).
Acquiring powerful overseas chipmakers seems to put the IC industry on the fast track. An anonymous vice president of a Shanghai-based chip firm told Economic Information Daily that mergers and acquisitions represent the general trend. For instance, after being merged, two IC industrial leaders in Taiwan--MediaTek and MStar Semiconductor--squeezed almost all the other companies out of the region. However, Chinese companies have frequently encountered "encirclement" by international giants with the strategy of patent.