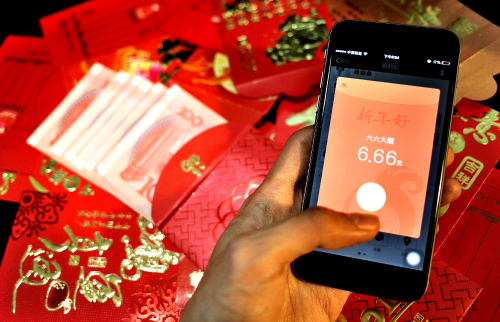 HAPPY HOUR: A resident in Guangzhou, capital of south China's Guangdong Province, receives digital hongbao with a smartphone on February 21 (CFP)
Kang Lipo, 30, is an editor for a Beijing-based radio station. Each year, he returns to his hometown Jiaozuo, central China's Henan Province, to spend the Spring Festival with his family. However, this year, things are a little bit different.
During this year's Spring Festival holiday, which ran from February 18 to 24, Kang spent a large amount of time giving and receiving electronic hongbao, red envelopes filled with money, via WeChat, China's most widely used mobile messaging application boasting over 400 million users. The app includes a "random distribution mode" in which a set sum of money is randomly dealt out to one's friends who have to claim it, increasing the excitement of a group of friends fighting over a hongbao.
As the host of a chat room for classmates, Kang invented a rule to turn the game of giving red envelopes online into a relay race--whoever gets the largest amount out of a randomly distributed hongbao is required to give a hongbao 10 times the amount.
"We played the game every day during the holiday. In all, I gave away 639 digital red envelops worth a total 4,484 yuan ($717) and got 444 red envelops worth a total 3,852 yuan ($616), a sharp rise from last year," Kang said. "It's a fun and easy way to show a little love and care to people who you otherwise might have ignored. We feel more emotionally connected. We even organized a dinner gathering after the hongbao fight."
Kang is one of the hundreds of millions of Chinese who celebrated the Year of the Goat this way. Giving the "lucky money" via mobile apps to celebrate the Lunar New Year is enjoying a surge in popularity online. Chinese Internet giants, including Tencent, Alibaba, Sina and Baidu, all released red envelope features to grab a slice of the booming mobile payment market.
Tradition goes viral
Giving hongbao to children during the Lunar New Year is a long-standing tradition in China. In ancient times, the money was said to have an effect on scaring monsters away. Gradually, envelopes also became symbolic of well wishings for the future.
The game of giving red envelopes online was invented by WeChat during the 2014 Spring Festival in order to gain more mobile payment users. Many Internet companies have followed suit and introduced their own red envelope services this year. Companies also gave cash hongbao or coupon hongbao to promote their products or services as a more targeted marketing technique.
Statistics from WeChat showed that 3.27 billion red envelopes had been sent and received by its users during this year's Spring Festival with 1.01 billion of them being exchanged online within 24 hours on February 18. At the peak time, which came in the first two minutes on February 19, as many as 1.65 million red envelopes were opened on WeChat every 60 seconds.
In addition, WeChat teamed up with the China Central Television (CCTV) to give out red envelopes during the CCTV Spring Festival Gala, an entertainment show broadcast on the Lunar New Year's Eve that has billions of viewers. The gala invited viewers to use "shake" feature on WeChat to get the 500-million-yuan ($80-million) cash hongbao and 3 billion coupon hongbao.
Alipay, the mobile payment system run by China's e-commerce king Alibaba Group Holding Ltd., saw over 100 million people exchange mobile "lucky money" during the holiday. The period from February 18, or the Lunar New Year's Eve, to February 21 was the peak for digital hongbao with a total of 4 billion yuan ($652 million) paid via the e-payment platform, according to figures released by Alipay.
The hongbao war does not only take place among ordinary people but also among China's Web giants, who are vying for dominance in the lucrative mobile payment services. Users must bind a bank card to their accounts to send digital hongbao to others, which they can use for future transactions.
Liu Ying, a research fellow with the Chongyang Institute for Financial Studies at the Beijing-based Renmin University of China, said the battle over the lucrative mobile payment market is behind the hongbao war.