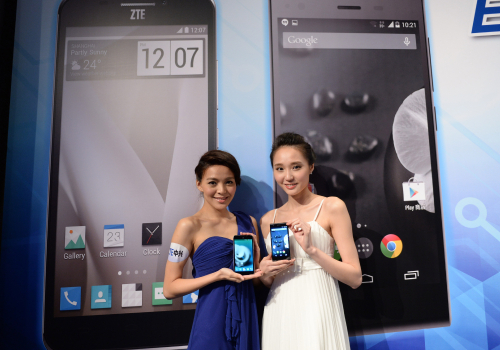 MODEL BEHAVIOR: Two models in Hong Kong show off mobile phones made by ZTE Corp., a Chinese multinational telecommunications equipment and systems company (QIN QING)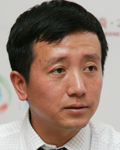 Are large multinationals leading an upsurge in foreign companies leaving China? Some media reports may give that impression, but these reports are somewhat one-sided.
It is true that some factories owned by foreign companies in China have recently been shut down, and these actions by some large multinationals particularly arrest people's attention: Japanese watchmaker Citizen shut down its factory in Guangzhou, south China's Guangdong Province; Panasonic announced plans to shut down two TV production lines in China; and Microsoft decided to shut down two cellphone production lines of Nokia in China.
Company and industry operations are an ever-changing process. However prosperous a company once was and however good a business environment used to be, the shutdown or even bankruptcy of some companies is inevitable. We should instead focus on the net amount of foreign investment. In recent months, China's paid-in foreign direct investment (FDI) has been going up on a yearly basis. Despite slight monthly drops in the latter half of 2014, China still saw a yearly increase of 1.7 percent in FDI in the non-financial sectors. With the amount of non-financial FDI reaching $119.56 billion last year, China has become the world's largest FDI recipient.
In the shutdown of Chinese factories by large multinationals, we can find that the major reason is not the deterioration of China's business environment but rather business difficulties faced by those multinationals after they become less competitive than Chinese-funded or other foreign companies. The most typical examples include Japanese home appliance makers, which have suffered huge losses for years, and the former world's biggest mobile phone maker Nokia, which has failed in market competition.
Japanese companies used to lead the world home appliances industry. However, with the robust rise of Chinese and South Korean companies, Japan's home appliances industry has lost power, in part due to several major mistakes in decision-making. For instance, Sony's home appliance business alone has lost 300 billion yen ($2.47 billion) in the past decade. As a result, slashing manufacturing operations worldwide, not just closing factories in China, has become the only option for some Japanese home appliance makers. However, they still sustain their relations with Chinese production chains by offering semi-finished products or other supplies to Chinese manufacturers. Sharp not only acquired 150 billion yen ($1.24 billion) in bank loans but also gained financial support from a deal with Samsung. Sharp is also withdrawing from the Mexican, Southeast Asian and Australian markets. Like Sony, though, Sharp still sustains its relations with Chinese production chains.
Rise of Made-in-China
Is this a sign of the decline for China's manufacturing industries? The answer is no. Chinese manufacturers are growing rapidly. In the 1990s, China had already become the world's largest home appliance producer and exporter, and it now holds even bigger advantages in this industry.
While Motorola and Nokia are in decline, Chinese mobile phone makers, which got a late start, have become world leaders in production and exports. Motorola made the world's first mobile phone in June 1983, but China's mobile phone industry only began in 1997, and Chinese manufacturer Kejian produced the country's first mobile phone in 1998. At that time, domestic market shares of Chinese mobile phone makers could even be overlooked, and almost all the 3.96 million mobile phones made in China were from wholly foreign-funded enterprises or joint ventures. However, in 2012, China produced 1.18 billion mobile phones, almost 300 times the amount in 1998 and accounting for 75 percent of all the mobile phones sold worldwide. In 2013, among all the 1.8 billion mobile phones made in the world, 81.1 percent or 1.46 billion were from China.