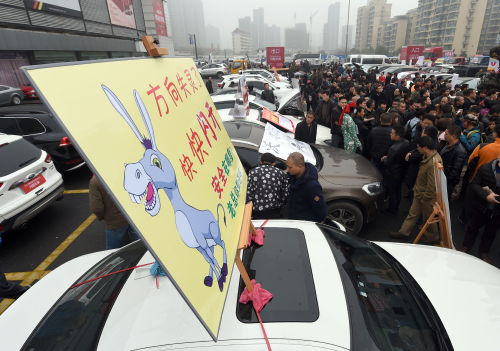 DEFECTIVE MERCHANDISE: Over 100 faulty cars are exhibited in Hangzhou, capital of east China's Zhejiang Province, on March 15, World Consumer Rights Day. Technicians, lawyers and other professionals were invited to the event to offer their services to car owners (HAN CHUANHAO)
Zhao Ping, a 27-year-old resident of Beijing's Fengtai District, is an online shopping fanatic. Her craze for online purchases was further fueled over the past year when Web retailers gave her the right to return her products after she receives them, as is required by a revised law on protection of consumer rights.
"I bought a new dress online on March 13. When I got it, I found the size was too big and I contacted the seller for a refund. She agreed without any hesitation or questions," Zhao said. "Then, I called the express delivery service to claim the dress and filled in a very simple form online. All that's left to do is to wait for the money to go back into my account."
According to data from the State Administration for Industry and Commerce (SAIC), the trade value of online shopping totaled 2.79 trillion yuan ($447.6 billion) in 2014, accounting for 10 percent of the total social retail sales. Despite apparent convenience brought about by online shopping, it produces a cluster of problems, among which the most prominent issue would be the difficulty to return products customers regret buying.
At least, that was an issue until March 15, 2014, when the revised Law on the Protection of Consumer Rights and Interests took effect. Since online shoppers cannot see or touch the real product before deciding to purchase it, the revised law gives customers the right to return after receiving the product. Customers may return goods within seven days of receipt without giving any explanations if they make the purchase decision remotely, including online shopping, TV shopping and mail order. Several special categories are exempted from the law.
Throughout the past year, consumers' right-protection awareness has been on the rise. Other illegal actions like imparity clauses, false advertising and discriminative policies have become more difficult to get away with in the Chinese market. However, law enforcement agencies claim that challenges exist in the implementation of the law itself.
Better protection
In the revised Law on the Protection of Consumer Rights and Interests, the scope of consumer rights and interests has been expanded upon in detail. Issues such as protecting personal information, replacing and returning of commodities and services, increasing penalties for fraudulent behavior, and defending consumers' privacy, property and health rights all fall within this scope.
According to the SAIC, China's industry and commerce authorities nationwide handled more than 1.16 million consumer complaints last year, up 14.3 percent from the previous year. The number of complaints and the increase were the highest in five years, the SAIC said.
"The soaring figures show that infringement of consumer rights are still a frequent occurrence," said Yang Hongcan, Director of the Consumer Protection Bureau under the SAIC.
Liu Junhai, Director of the Business Law Center at the Beijing-based Renmin University of China, said the consumption environment has improved profoundly during the past year, owing to the new law.
"Changes come from different aspects. For the sake of long-term benefits and development, businesses have more respect for consumers. Consumers have more awareness in protecting their rights. In addition, various government departments have intensified the protection of consumer rights and interests, and industry associations have played their due role in self-disciplining the industry," Liu said.
Zhang Mao, Minister of the SAIC, said the regulator is trying every method to increase the cost of breaking laws for businesses, sometimes to the point that businesses can hardly afford the penalty.
"Only in this way can the market order be substantially improved," Zhang said.
China Consumers' Association (CCA), a nationwide organization for receiving consumer complaints and protecting consumer rights established in 1984, received 619,415 complaints in 2014, and 87.82 percent of them were settled, helping consumers to recover compensation totaling 920 million yuan ($148 million), according to a report released by the CCA.
"To tackle consumer right infringements, efforts should not only come from government supervision but also from company self-discipline, industry self-regulation as well as supervision from everyone in society," said Chang Yu, Secretary General of the CCA.