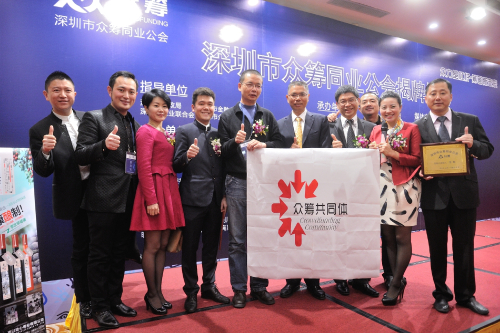 TOGETHER CLUB: Shenzhen Crowdfunding Industry Association, China's first professional organization specializing crowdfunding, is established on January 20 (CFP)
As soon as he got the newly revised government work report released on March 15, Yang Zezhu leafed eagerly through to Page 16 and found to his excitement that "carrying out trials of equity crowdfunding" had been incorporated into the section on financial reform, following suggestions from Yang and several other deputies to the 12th National People's Congress (NPC).
In 2014, Yang, an NPC deputy and Chairman of Changjiang Securities Co. Ltd., conducted a survey examining financing options for micro and small businesses as well as startups, and found that under the current regulatory system, it was difficult for such ventures to secure bank loans. In most of the companies surveyed, financing costs accounted for up to a whopping 30 percent of their total operational costs.
Gao Dekang, another NPC deputy and Chairman of Bosideng International Holdings Ltd., said a major obstacle for micro and small businesses is financing, but that the innovation of crowdfunding enables companies to access a method of raising capital simpler and more convenient than those offered by traditional financial channels. Crowdfunding also reduces the risk level for micro and small businesses because they are not required to compensate investors if they go to the wall.
Fan Yun, Chairperson of Shanghai Fushen State Assets Evaluation Co. Ltd. and also a deputy to the 12th NPC, said the incorporation of equity crowdfunding into this year's government work report indicates the financing method is now an officially recognized part of the capital market and that the Central Government is consequently likely to formulate new measures and policies to ensure its sound development.
On March 12, the State Council issued guidelines to carry out trials for equity crowdfunding so that this novel financing method may be harnessed to better serve emerging entrepreneurship and innovation.
Crowdfunding is the practice of funding a project or venture through soliciting monetary contributions from a large number of people, typically via the Internet. Equity crowdfunding is a mechanism that enables broad groups of investors to fund startup companies and small businesses in return for equity.
The world's first crowdfunding platform, Kickstarter, was set up in the United States in 2009. The World Bank projected that by 2025, the size of the global crowdfunding market might reach as much as $300 billion.
According to a recent survey by iResearch Consulting Group, the size of China's equity crowdfunding market reached 440 million yuan ($71.66 million) in 2014 and the number of crowdfunding platforms in normal operation totaled 110 by December 2014. Most of the platforms are based in Beijing, Shanghai, Guangdong, Zhejiang and other eastern coastal provinces.
China's top five equity crowdfunding platforms had a total financing volume of 270 million yuan ($43.97 million), accounting for 60.8 percent of the country's total crowdfunding revenue in 2014, according to iResearch.
Management is vital
Ruan Xiaoqin, an analyst from Shenwan Hongyuan Securities Co. Ltd., said as laws and regulations improve, both the market size of equity crowdfunding and the number of equity crowdfunding platforms will continue to grow.