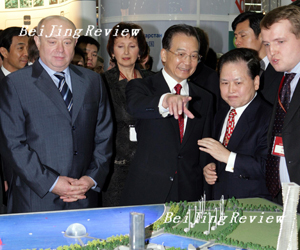 For China and Russia, 2006 is a year of special historic significance, as it marks the 10th anniversary of the establishment of the Sino-Russian strategic partnership of cooperation and the fifth anniversary of the signing of their landmark Treaty of Good Neighborliness and Friendly Cooperation. Apart from these commemorative occasions, however, Chinese see the success of the Year of Russia in China as raising the bilateral relationship to a historical high point.
"Unveiled by Russian President Vladimir Putin and closed by Russian Prime Minster Mikhail Fradkov [together with their Chinese counterparts], this short Year of Russia will have long-term implications for the relationship," said Chen Yurong, Director of the Division of East European, Russian and Central Asian Studies at the China Institute of International Studies.
As consensus between the two countries has expanded through the series of bilateral events, the two countries have cemented the strategic partnership and are poised to exert a greater influence on their region and the world at large, Chinese experts say.
Showcasing today's Russia
Fradkov was in Beijing November 9-10 for the 11th regular bilateral prime ministerial meeting with his counterpart Wen Jiabao; President Hu Jintao and top legislator Wu Bangguo also received him separately.
The two heads of government reached consensus on a wide range of issues including promoting cooperation in oil, natural gas and nuclear energy projects, increasing mutual investment, dealing with trade problems, pursuing medium- and long-term cooperation in science and technology, establishing culture centers in each other's country and collaborating on environmental protection.
In a joint press statement, they affirmed that their strategic partnership of cooperation had developed rapidly with mutual trust reaching unprecedented heights; cooperation in various fields has benefited both nations and contributed to world peace and stability.
At the same time, the two sides expressed their resolve to further promote mutually beneficial cooperation in all fields and further upgrade the strategic partnership.
Chen Yurong believes relations between China and Russia are now stronger than they have ever been. She gave particular credit to the Year of Russia, saying it helped promote across-the-board bilateral cooperation in diverse fields, from culture and arts to trade and business.
She stressed that the Chinese people had an opportunity to familiarize themselves with the lifestyle and economy of contemporary Russia-far different from what they had learned from favorite Soviet novels in the past. In this sense, the event had enhanced mutual understanding.
According to the official newspaper People's Daily, some 200 exhibitions, concerts, trade fairs and other events covering areas such as politics, economy, culture, science and technology, education, military affairs and regional cooperation were staged. "The Year of Russia has received widespread attention in the two countries and throughout the world, as it helped to consolidate the foundation of Sino-Russian friendship, build a new platform for pragmatic cooperation and substantiate the strategic partnership of cooperation," the newspaper said in an editorial.
In this special year, exchanges between China and Russia at various levels were extremely frequent, the newspaper noted. High-level exchanges hit a record high with the two countries' presidents meeting four times. Senior officials, such as top legislators and prime ministers, as well as many ministers and regional heads, also met on many occasions.
In addition, the Year of Russia triggered off "Russian-chic" in China. While giving the Chinese a better picture of Russia's time-honored history, brilliant culture and recent developments, it imbued the general public with the peaceful concept that China-Russia friendship will last forever, the newspaper said.
It also noted that, within the framework of the Year of Russia, the two countries held a number of events promoting pragmatic cooperation such as a Sino-Russian business summit forum, a series of promotional activities on Russia's federal districts, the Russian National Exhibition and the China-Russia Investment Promotion Week. The bilateral trade volume totaled $24.64 billion in the first nine months of this year, up 18.8 percent from the same period of last year, and should reach a record $36 billion by the end of the year, People's Daily said.
Trading powers
Chen pointed out that economic and trade cooperation was high on the agenda of the visiting Russian premier. Apart from the trade promotion programs held during Fradkov's visit, 17 documents were signed to promote cooperation on trade, nuclear power, education and some other fields.
Under one of these, China will significantly increase the import of electricity from Russia. The agreement between the State Grid Corporation of China and Russia's electricity monopoly Unified Energy Systems commits the latter to supply up to 60 billion kilowatt-hours to China per year, with 4.3 billion kwh transferred in the initial stage, according to Russian media reports.
It was also announced that Russia's main oil and gas exploration company, Rosneft, would boost its exports of oil to China by up to 65 percent next year, with the aim of eventually becoming the country's largest foreign partner in the energy field. The Russian State-owned firm will increase exports of crude oil and oil products to China to 20 million tons next year, from an expected 12 million tons this year, announced its president, Sergey Bogdanchikov, traveling with Fradkov.
However, the two sides have not yet signed a contract, Bogdanchikov added. He made the remarks at a news conference on November 10 after the inauguration of the company's representative office in Beijing, a move that he believes highlighted China's importance in its global expansion strategy.
In another development, Chinese and Russian firms reached agreements on 10 projects involving a total Chinese investment of $1 billion in Russia during the Sino-Russian Investment Promotion Week and the Third China-Russia Conference on Investment Promotion held in Beijing on November 9.
Chen said bilateral economic and trade cooperation had deepened and broadened as the business communities and regions in the two countries continue to strengthen dialogue. Reviewing progress in bilateral relations over this year in an interview with Beijing Review, she underscored this positive trend, in addition to the soaring trade volume.
In retrospect, she also hailed Russia's Far East oil pipeline project. Construction of the project's first stage was kicked off last April, putting an end to years of wrangling between Russia, China and Japan. She said the pipeline, whose destination is set near the Chinese border, was bound to open up bright prospects for further energy cooperation between the two countries.
Shaping a new order
With relations between China and Russia making such great strides, experts are eager to explore their relevance in a wider context. Chen said the upgrading of the strategic partnership could exert a positive influence on the surrounding region. She believed it would enhance peace and economic development in Central Asia.
She noted that, as important members of the Shanghai Cooperation Organization, China and Russia played a crucial role in combating terrorism, separatism and extremism and safeguarding security in the region in collaboration with Central Asian countries. At the same time, the rapidly expanding economic cooperation between China and Russia would provide fresh impetus to economic development in Central Asia.
Chen further pointed out that the China-Russia partnership had become an increasingly important factor in shaping the new political order in the world. She said the two countries shared similar views on major international issues and visions on international relations. For example, both advocated a just and reasonable new political order in the international community, stood for safeguarding world peace and resolving crises by peaceful means, and respected the diversity of the world's civilizations and various modes of development. Their ways of handling international affairs hinged on the maintenance of world peace and the establishment of a new international order, she said.
Xu Tao, a research fellow at the China Institutes of Contemporary International Relations, said that, ever since the disintegration of the Soviet Union, Central Asian nations had pursued a multilateral and balanced strategy in their cooperation with foreign countries and sought partnerships with various countries on the economic front. Though attractive to the countries in Central Asia, the "Greater Central Asia" strategy of the United States was not in their best interests as it aimed to tighten the exclusive American grip on the region, said Xu.
He observed that Russia's influence over the region was unparalleled. China's rapid economic development and state-controlled reforms during its transition to a market economy had also been widely recognized. China's positive role was essential to Central Asian countries while they were making painstaking efforts to rehabilitate their economies, Xu said. Moreover, China could serve as their gateway to the Pacific Rim, an advantage even more valued by these countries than specific cooperative projects with China. Given these advantages, Xu said, China and Russia should continue to enhance mutual trust and collaboration so as to jointly boost their influence.
Zheng Yu, a research fellow at the Institute of Russian, East European and Central Asian studies at the Chinese Academy of Social Sciences, pointed out that China-Russia strategic cooperation had undergone dramatic changes since the beginning of the 21st century, and especially since 2004. First of all, their cooperation had become more balanced globally, regionally and bilaterally. Unlike in the 1990s when the two countries focused on cooperation on global and regional issues, China and Russia were more pragmatic about bilateral strategic cooperation.
Also, the partnership had effectively changed the region's strategic landscape with its practical implications. In addition, the Year of Russia and the Year of China to be held next year in Russia were indicative of the fact that the two countries were intensifying efforts to bolster the social and cultural foundations for long-term strategic cooperation.
Chen said she wanted to see the good momentum exhibited in bilateral relations carried forward during the Year of China, on which she pinned high hopes. "It is expected to show to the Russians a multifaceted China and dispel their misperceptions," she said.