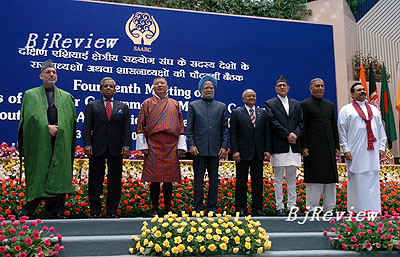 The 14th summit meeting of the South Asian Association for Regional Cooperation (SAARC) was held in New Delhi from April 3-4. Afghanistan made its debut in this forum as a new SAARC member, while China, Japan, South Korea, the United States and the European Union (EU) participated as observers for the first time.
South Asia covers an area of more than 4 million square km and is home to nearly 1.5 billion people. SAARC was founded in 1985 as a major regional cooperation organization in South Asia. Its main purpose is to promote cooperation between member countries in the fields of economy, society, culture, and science and technology. It abides by the principle of consensus in carrying out regional cooperation, refraining from discussing controversial bilateral issues.
Despite the remarkable progress it has made in the past 22 years, SAARC lags far behind other regional organizations such as the Association of Southeast Asian Nations (ASEAN) and the EU. The prime reason is that major powers in South Asia, most notably India and Pakistan, have long been at odds. Moreover, South Asian countries practice trade protectionism with high tariff levels, resulting in weak economic and trade links and making it difficult to foster regional economic cooperation. Even the annual summit, an event that is enshrined in the SAARC Charter, has been postponed or canceled a number of times.
With tension between India and Pakistan continuing to ease, the overall situation in South Asia has stabilized in recent years. As they focus on economic development at home, countries in this region have improved their economies to varying degrees. Statistics show that average GDP growth of SAARC members was 8.1 percent in the 2005-06 fiscal year, higher than the growth rate of Asia as a whole, which stood at 7.6 percent. It is projected to reach 8.2 percent in the 2006-07 fiscal year. South Asia has become another dynamic area of world economic growth. In this context, all members have come to realize that SAARC is an important platform for mutually beneficial cooperation and a crucial vehicle for them to sustain rapid economic growth. At the same time, they feel an urgent need to strengthen cooperation now that other regional organizations grow increasingly mature. These factors injected fresh impetus to this year's SAARC summit.
Addressing current issues
Discussions on promoting regional economic cooperation and implementing the Agreement on the South Asian Free Trade Area topped the agenda of this summit. The agreement was put into practice in July last year, and the South Asian Free Trade Area is expected to materialize in 2016, thus forming a large and unified market covering the whole region. At the summit, a series of measures were adopted to facilitate the implementation of the agreement. First of all, the countries were urged to reduce tariffs. Drawing on ASEAN's experience in building a free trade area, SAARC divided its members into two groups---developing countries and the least developed countries---with India, Pakistan and Sri Lanka falling into the former group and Bangladesh, Nepal, Bhutan and Maldives falling into the latter.
The countries will follow different timetables to lower their tariffs. The tariff level in South Asia is expected to drop from around 30 percent at present to below 5 percent in five to 10 years, thereby promoting the free flow of commodities in the region. India and Pakistan are scheduled to reach the target by 2012, Sri Lanka by 2013 and Bangladesh, Bhutan, Maldives and Nepal by 2015.
Also, the meeting called on SAARC member countries to step up infrastructure construction to lay a solid foundation for the South Asian Free Trade Area. A report on strengthening railway, highway and air linkages of member countries was discussed at the meeting. The report detailed plans to build the South Asian section of the pan-Asian railway line, create a road transportation route from Bangladesh to Afghanistan and increase the number of flights between member countries.
The proposal of establishing a South Asian University put forward by India at the last summit was endorsed with a decision to set up the university in two years. India is expected to finance the initial costs. The university's organizational framework is to be formed in the coming year. Undergraduate programs of the university will be conducted in different member countries, while graduate students will receive their education in India. A three-day technical committee meeting involving experts and officials from SAARC member countries was convened in March to make preparations.
In addition, the summit reviewed a proposed medical network scheme for South Asia.
Being one of the centers of terrorist activities, South Asia suffers direly from the woes of terrorism. Terrorism poses a grave challenge to most SAARC member countries, threatening the stability and development of the region. India, Pakistan, Bangladesh and Afghanistan are all victims of terrorism. Some South Asian countries are beset by ethnic conflicts and political turmoil. The rampant terrorist activities have fueled these complications, leading to a more hostile security situation. It has not only inflicted severe losses on the affected countries but also made the countries, especially India and Pakistan, suspicious of each other, worsening their political and economic relations.