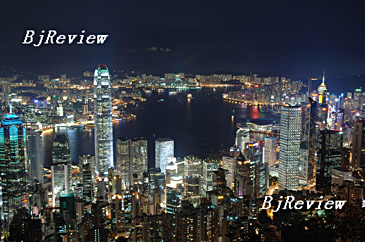 The most impressive view of Hong Kong still bears the name of the British Empire. From atop Victoria Peak, under sunshine or night sky, Victoria Bay remains a feast for the visitor's eyes. In this former colony famed for speed and vitality, British governors, monarchs and casualties of war are still honored on the streets, in parks and on coins.
On the surface, one finds that not much has changed in the city. Just as Deng Xiaoping promised, "horse racing and dancing are still prominent fixtures in Hong Kong." But one never steps into the same river twice. The Hong Kong of today cannot be the one from 10 years ago. Like the flowing river, the city must forever evolve. It changed overnight from a British colony to the Hong Kong Special Administrative Region (HKSAR) of China on July 1, 1997. After this milestone, the past decade witnessed several changes, apart from that of the Union Jack being replaced by the five-star red flag of China and the bauhinia one representing the HKSAR.
But something at the core of the city remains the same. It is these unchanged things that attracted Wong Yim Fat's friends back to Hong Kong. When they boarded Canadian or Australian airlines in 1997, convinced by media predictions that Hong Kong was doomed, they thought they had left for good.
Wong, 52, a fishery businessman, has a vivid memory of the historic moment, before and after. "Some of my friends were so scared and fled. Now some have come back and said they will never leave again," he said, evidently proud of his decision not to leave.
Since the day Hong Kong became a part of China's sovereignty, the world watched keenly. Would Hong Kong retain its role of free port? What did "one country, two systems" really mean? Those who predicted things would turn "ugly" had a louder voice, and some Hong Kongers even seriously thought about what books they should bring to read in prison.
Alive and kicking
Difficult times did come, but in unexpected ways. A financial crisis crept into Southeast Asia on only the second day of Hong Kong's return to China, and the city was soon preyed upon as an ATM machine by George Soros, a global financier. Property prices spiraled down by half and middle-class families panicked to find their assets turning into debts; severe acute respiratory syndrome (SARS) covered the whole city with surgical masks and bird flu emptied out local dinner tables where chickens were served everyday. There were moments of grief, pain, undermined confidence.
"My business was shrinking by 40 percent during the down period," said Wong. "All I had to do was to face it and work harder."
Hong Kongers did not fight alone. In March 1998, the then Chinese Premier Zhu Rongji promised that the Central Government would protect Hong Kong against the financial crisis "at all costs" if needed. It was reported that Soros dropped his teacup upon hearing of Zhu's statement. Even as Hong Kong crawled to a near standstill in the aftermath of SARS, the Central Government signed a Closer Economic Partnership Arrangement (CEPA) with Hong Kong to expand the market for the latter's products and services. Just as Rita Fan, President of Hong Kong's Legislative Council, had said, "Hong Kong's business opportunity is limited, while that on the Chinese mainland is limitless," so CEPA opened a huge market to Hong Kong,
The Individual Visit Scheme was then implemented to encourage individual tourists from mainland cities to tour Hong Kong; as a result, tourism started to boom in Hong Kong. Now for every two foreign tourists in Hong Kong, there is one from the Chinese mainland.
"[After SARS] nobody was in the mood to spend money. Only after mainlanders came to visit and consume, Hong Kong citizens gradually dare to buy things and dine at restaurants. CEPA and the Individual Visit Scheme saved Hong Kong," said Ian Fok Chun Wan, Chairman of the Chinese General Chamber of Commerce.
Closer cooperation between Hong Kong and the Chinese mainland not only boosted the former's economy, but also helped fuel the latter's dramatic economic growth. Both are still reaping the benefits. As the Chinese economy continues to develop and Chinese companies' thirst for global capital grows, Hong Kong can serve some demand well. Now the city ranks as the principal conduit to international financial markets and the natural destination of choice for Chinese companies to raise international funds. The Central Government also expanded renminbi (yuan) business to Hong Kong banks and encouraged enterprises from the mainland to seek IPO listing on the Hong Kong Stock Exchange. The year 2006 saw a succession of some of the largest IPOs in financial market history, including the biggest ever -the $21.9 billion offer by the Industrial and Commercial Bank of China.