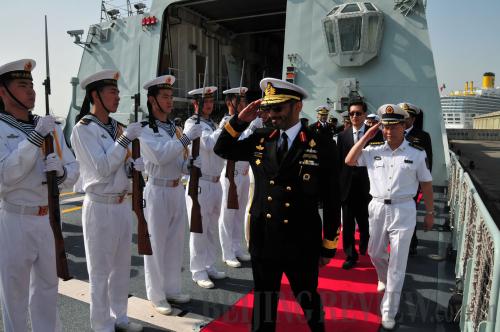 ADMIRABLE RECEPTION: The United Arab Emirates (UAE) Navy Rear Admiral Sheikh Saeed bin Hamdan al Nahyan (front middle) reviews honor guards of the Chinese Navy's fourth escort fleet in Abu Dhabi on March 24, 2010 during the fleet's visit to the UAE on its way home from the Gulf of Aden (AN JIANG) 

Besides merchant vessels from the Chinese mainland and Hong Kong, Task Force 529 also escorted ships from other 29 countries and regions—ranging from South Korea to the Marshall Islands.

For instance, it simultaneously escorted 26 merchant vessels on November 20, 2009. Among these ships, 17 were from other countries as diverse as Liberia, Singapore, Panama, Turkey and Portugal.

"Safety considerations were a reason" behind requests for help from the Chinese, said Wang. "But the most important reason lay in the reputation of the Chinese fleet."

Cao Weidong, a researcher with the Naval Research Institute of the People's Liberation Army (PLA), said China's deployment of warships to the Gulf of Aden are legally sound, as they have been done under the auspices of UN resolutions.

But they have hardly been easy tasks. Many escorts, he noted, can take up to several months. Further complicating matters, said Cao, is the fact that, over the navigation of tens of thousands of nautical miles, the escort fleet might be unable to dock at any port. This has turned many of these missions into grueling tests—both for the crews and their equipment.

Many experts have expressed their approval for the achievements of the Chinese escort fleets. Cao said the successes of the escorts are a direct result of the advances by the Chinese Navy over the past six decades.

The first convoy mission, lasting 124 days, he said, proved a case in point. For the first time, the Chinese Navy realized its goals of projecting the power of the trans-oceanic capacities of its warships, ship-borne aircraft and special operations forces. Indeed, it also represented the first time the Chinese Navy conducted major operations in deep-sea waters without an extended stay in a port of call.

It was also the first time the Chinese Navy executed maneuvers in the same regions as navies of multiple countries.

For the first time, Chinese naval vessels also organized logistical and technical support amid sustained and high intensity conditions in unfamiliar waters far from shore.