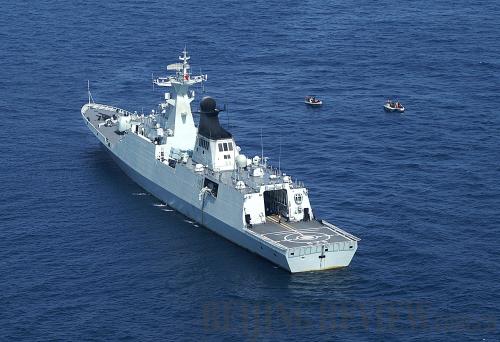 BAILED OUT: The Ma'anshan frigate of the fourth Chinese naval escort fleet escorts merchant vessels in the Gulf of Aden on January 22, 2010. That day, the Chinese naval escort fleet successfully rescued two Chinese merchant vessels from suspected pirate ships (XINHUA) 

Song Yunxia, a professor of the Dalian Naval Academy of the PLA, said the escort missions in Somali waters were also the first time the Chinese Navy protected major transportation routes in a distant waterway.

Preparations before departure, instructions and decisions made during the missions and successful operations in which pirates were involved all demonstrated China's compliance with international laws.

Chinese characteristics

China's naval deployment in the Gulf of Aden demonstrates important characteristics.

For instance, two pick-up and drop-off points have been established in waters southwest of the Port of Aden in Yemen and north of Yemen's Socotra Archipelago respectively. Escort fleets and the escorted vessels meet at the pick-up point, and go on to form an escort flotilla to sail through the Gulf of Aden.

Seven patrolling areas have been set up along the main shipping courses in the Gulf of Aden, and in the waters off the eastern Somali coast. Escort fleets frequently patrol these areas.

Armed Chinese special operations units are present aboard vulnerable vessels, including those that sail slowly, those with low freeboards, or ships loaded with valuable cargo.

Escort fleet actions are also constantly adjusted and optimized according to changing situations.

Since September 2009, piracy has surged in the Gulf of Aden and waters off the Somali coast. And while an increasing number of ships have asked to join Chinese escort flotillas, each ship still brings further risk and responsibilities.

Based on these fast-evolving conditions, Chinese escort forces have since begun to investigate pirates' strategies to identify methods and patterns to maximize their effectiveness. They have gone to great lengths to accommodate their escort routes to maximize safety and flexibility.

As of August 6, 2009, for example, the drop-off point in the west of the Gulf of Aden was relocated to the waters near the southern mouth of the Mandab Strait. Soon after, with the declining Indian Ocean monsoon season and the ever-rampant pirate attacks that marked the month of September, the escorting course was extended by another 122 nautical miles to the eastern waters of the Gulf of Aden, starting October 1.

Improved logistics have proven pivotal, too. In principle, escort missions mainly depend on warships, but when a large number of escorted vessels are involved, ships to provide backup fuel have also joined escorting missions.