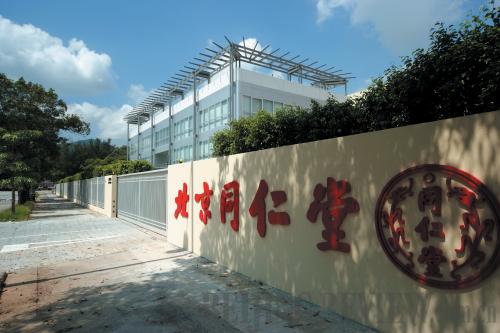 TAKING TCM TO THE WORLD: Tongrentang struggles to make an international name for itself, even though it has reaped handsome profits at home (COURTESY OF TONGRENTANG)
For more than 300 years, herbal medicinal company, Tongrentang, has produced one of China's pillar cultural products: traditional Chinese medicine (TCM). Now, the centuries-old TCM maker is bursting with vitality, though challenges remain.
Tongrentang is a brand name synonymous with TCM. The prestigious family business was established in 1699 during the Qing Dynasty (1644-1911). In 1723, it was appointed as the sole supplier of medicinal herbs to the imperial court.
Now the time-honored enterprise produces more than 1,000 TCM products and operates at least 1,000 stores across the country.
"Over the centuries, Tongrentang has focused on quality control combining traditional craftsmanship and modern techniques," said Mei Qun, General Manager of Tongrentang.
"Meanwhile, we are making a push into healthcare products as wealthy Chinese focus on disease prevention in their everyday lives."
While Western medicine treats symptoms, TCM puts priority on addressing the underlying causes of illnesses, and is bound for a significant market boom as demand creeps up, said Guo Fanli, a senior researcher at the Shenzhen-based CIC Industry Research Center.
In addition, healthcare reform in China will make TCM more available and affordable for consumers, injecting fresh steam into the traditional industry, he said.
But one of the company's weakest links lies in marketing. In a bid to shore up its weakening balance sheet, the company in 2006 required its distributors to make instant payments upon receipt of goods. The move scared many distributors away to rival manufacturers, dealing a heavy blow to the company. In 2006, the company witnessed its revenues plunge 8 percent and net profits nose-dive 48 percent.
Tongrentang then set up a sales company of its own and accelerated construction of new outlets to wean its reliance on distributors. Meanwhile, it allowed delayed payments for some distributors to keep them interested.
"Those vigorous efforts are paying off, but the company still has a lot to do to strengthen its sales network," said Wang Xi, an analyst with the Industrial Securities Co. Ltd. "Compared with other medicine producers, it still has less clout over distributors."
Tongrentang has also extended its reach to research and development, TCM hospitals and logistics. The diversified strategy has laid a solid foundation for its profitability and also provided a buffer against intensifying competition.
The company's Shanghai-listed unit, Beijing Tongrentang Co. Ltd., earned 3.824 billion yuan ($588.31 million) in sales revenue last year, up 16.3 percent and raked in 562 million yuan ($86.46 million) of profits, up 20.58 percent.
As of the end of 2010, Tongrentang Group's total assets, sales revenue and profits had reached 12 billion yuan ($1.85 billion), 13 billion yuan ($2 billion) and 1 billion yuan ($153.85 million), respectively.
TCM around the world
With the ambition of becoming a global player, Tongrentang has also expanded its footprint beyond China's mainland.
In 2005, the company established a production base in Hong Kong, marking a stride toward global expansion. More importantly, financial strength, logistics efficiency and trade freedom in Hong Kong helped Tongrentang step onto the world stage.
By April 2011, Tongrentang had 48 overseas stores in 16 countries and regions, as well as 18 wholly owned or joint venture companies handling export businesses.
Last year Tongrentang brought in sales revenues of 330 million yuan ($50.8 million) from overseas markets, making it the country's largest exporter of TCM.
Nevertheless, the company still has a long way to go before receiving global recognition.
"Cultural differences and government regulation are the most daunting challenges facing TCM companies venturing offshore," he said.
"Chinese people have been using TCM for thousands of years while many Westerners still have no idea about it. So it will take time for Western consumers to understand and accept TCM."
Most of Tongrentang's overseas shops are in South Korea and Southeast Asia where overseas Chinese provided a solid customer base.
Its presence in Western countries is much smaller. Thus, Tongrentang will be less affected by the European Union's ban on sales of unauthorized TCM due to its limited presence in Europe, said Mei.