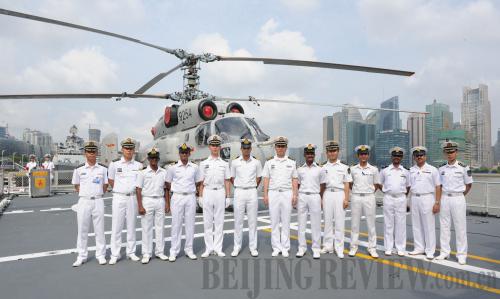 NAVAL EXCHANGE: Indian naval soldiers pose alongside their Chinese counterparts following a visit to Chinese missile destroyer Ma'anshan in Shanghai on July 14, 2012 (CFP)
China and India are two long-standing Asian civilizations, each with a rich history lasting thousands of years. Since ancient times, the two peoples have been connected by land and sea, particularly through the Silk Road and this connection has allowed for friendly cultural and economic exchanges. The Chinese navy and the Indian navy are also not strangers to one another. As early as 1958, the Indian cruiser INS Mysore had paid a friendly visit to Shanghai for military exchanges at a time when most Western countries had policies of boycotting and containing China. This friendly gesture from the Indian Navy was very encouraging for the newly born People's Republic of China. The scenes from that time are still fresh in the memories of those senior Chinese sailors.
Recently, using the launch of India's first indigenously built aircraft carrier Vikrant as an opportunity, some Western media have begun to sow discord between China and India. They claimed that the unveiling of Vikrant symbolizes India's defeat over its regional rival China by joining the elite club of nations able to design and build their own aircraft carriers.
At the same time, a senior Indian Navy chief of staff published an article highlighting the fact that "the ship was independently designed and built. It holds a huge advantage ahead of China, whose experience and capabilities in regards to aircraft carriers is still far behind us."
The author of the article told the truth and inadvertently refuted the "Chinese naval threat theory" concocted by the West. The Indian aircraft carrier poses no threat to its neighbors or to the world, nor does China's recently completed aircraft carrier, the Liaoning.
There are three points worthy of our attention concerning the new development of an Indian aircraft carrier.
First, India's top leaders have the foresight to adhere to the development of an aircraft carrier. As an emerging developing country, all previous and current generations of Indian leaders have attached much importance to the Indian Ocean, making the development of aircraft carriers a national strategy and a national aspiration. Overall, the Indian Navy and its carrier does not pose a threat to the Asia-Pacific waters or cause major disputes, it only strengthened the country's self-confidence and status as a great power both in Asia and the world.
Second, India has explored and practiced its own unique path to develop aircraft carriers and its navy. Making good use of the current international environment, India has drawn good support from most world sea powers for diplomatic, economic, military and technical assistance. It had purchased an aircraft carrier from other countries early on, which helped India a lot in gaining related experience and staff training. It also brought in aircraft carrier designing technologies at the right time, laying a good foundation for the development of the indigenously built aircraft carrier. All were achieved step by step and on schedule.
Third, India has had maintenance experience related to aircraft carriers and related technologies for decades, and it has promoted a balanced and comprehensive development of its navy air equipment, taking advantage of the development and maintenance experience resulting from having aircraft carrier. The Indian Navy has made considerable achievements in developing nuclear submarines, conventional submarines, destroyers and frigates.
When India unveiled the newly built aircraft carrier Vikrant, some Western media tried to insinuate that the major impetus for India's naval expansion is China. The argument is both groundless and derived from a lack of good will. It is nothing but an old trick to cash in on the China-India border dispute.
Both China and India are independent countries, and they have the right to choose their own road in pursuing national defense and securing their national security whilst not infringing upon the territory and sovereignty of other countries. China and India are by no means a threat to each other. Since both are emerging developing countries, the two should construct and develop their own militaries in accordance with their own strength and security needs. They should not be incited into conflict by Western exaggeration of a two-way military threat.
The author is a retired rear admiral in the Chinese Navy and former head of the Navy Equipment Department
Email us at: liuyunyun@bjreview.com