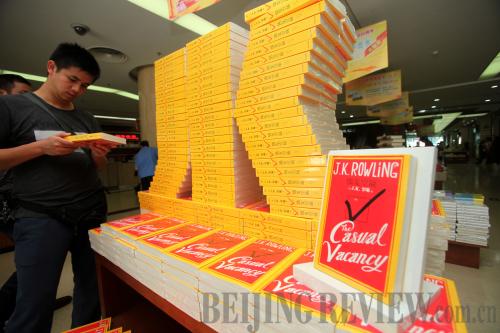 A SALIENT POSITION: The Chinese version of The Casual Vacancy at the entrance of a book store in Ningbo, east China's Zhejiang Province on October 20, 2012 (CFP)
The Chinese version of the British writer J. K. Rowling's The Casual Vacancy hit shelves across the country in fall last year, ahead of much anticipation following the success of her Harry Potter series.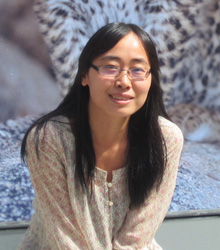 Ren Zhan (COURTESY OF REN ZHAN)

However, Ren Zhan, one of two translators who helped rework the novel into Mandarin, said readers who expected similarities to the magical Potter book, would be disappointed, as the focus is more adult and reality orientated. Ren is now an editor at Shanghai 99 Readers' Culture Co. Ltd.

Sales volume has failed to meet original expectations. According to the Beijing Youth Daily, two months since the novel first appeared, only 500,000 from a first supply of 600,000 were sold. Nonetheless, it topped the local best-seller list for weeks.

According to reader comments on Douban.com, some voiced disappointment regarding the novel's complete departure from Harry Potter, while others hailed Rowling's change of genre as a success, featuring a higher literary standard.

"The novel touches upon the dark side of human nature. It's depressing and doesn't offer any solution by the end," Ren said. "It symbolizes Rowling's movement from children's literature to adult readership."

Working for a Shanghai-based publishing company as an editor responsible for introducing foreign literary works into China, Ren has translated works such as Daniel Defoe's (1660-1731) Robinson Crusoe, Stephen King's Just after Sunset and Paul Hoffman's The Left Hand of God in her spare time.

"It's like a word game. Although I don't write anything new, I am recreating the original works through translation."

Translating The Casual Vacancy

Ren's experience translating The Casual Vacancy differed from her previous attempts in that she worked on the novel in Britain, after local copyright was secured by the Beijing-based People's Literature Publishing House and her own company. She was subsequently sent to London to work alongside Xiang Dingding, a teacher from Fudan University in Shanghai.

Besides the two Chinese translators, only their French, German and Dutch counterparts were permitted to start working on the story three months before its English release, underscoring the importance of the Chinese market. The local version saw light three weeks after the English version, becoming the first translation of the work to appear in Asia.

"I gained a deeper understanding of the novel by translating it in the country where the characters themselves reside," Ren explained.

With its release scheduled for October 20, she only received the manuscript in July, necessitating the translation of 5,000 words per day.

"I had to focus every second," Ren admitted.

She and Xiang became the first Chinese to glimpse the content of the new novel, signing a contract with Rowling's agent to prohibit disclosure.

Having majored in English, Ren long dreamed of visiting the United Kingdom, the birthplace of many great writers. However, she had little time to explore while working on the book, viewing London mostly from her window.

An avid reader

"Rowling's language is simple and very easy to understand. I had to look up much related to British culture though," Ren said.

Ren's broad exposure to both Chinese and foreign literature prepared her well for a life in translation and editing. Her favorite authors include contemporary Chinese such as Lao She (1899-1966) and Lu Xun (1881-1936), Czech-French Milan Kundera, Austrian Stefan Zweig (1881-1942) and British David Lodge.

She conducted a post-graduate program in English literature at Fudan University, where her graduation thesis focused on American writer Toni Morrison.

"I also loved Lodge's Changing Places: A Tale of Two Campuses and Small World: An Academic Romance, which satirize academic life and are very funny," Ren said.