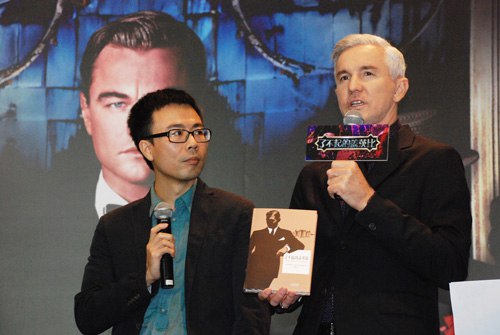 NOVEL APPROACH: Baz Luhrmann, director of The Great Gatsby, with Li Jihong (left), translator of the book's new Chinese edition, at the film's release in Shanghai on August 31 (CFP)
Thirty-three-year-old translator Li Jihong caused much controversy when he was recently crowned as a "genius translator" for his version of Henry David Thoreau's Walden, a universally regarded classic.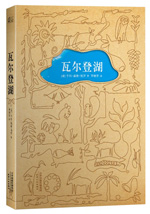 SPINE FRESH: Li Jihong's newly published translation of Walden (FILE)
This was his fifth undertaking for Guomai Culture and Media Co. Ltd., all four of his previous translations—including The Little Prince (Antoine de Saint-Exupery)—becoming bestsellers, for which the publisher has cast him as the best translator of all time..
Earlier this year, when Li's translation of The Little Prince was published, he suffered a wave of criticism due to the advertisements of "best translation so far" and "young genius translator" printed on its cover, and for which he was criticized as being arrogant and disrespectful of the previous generation of translations.
Li said that he always found reading foreign literature difficult as a child, a problem shared by many of his peers.
"My difficulties were mainly caused by poor translation. Foreign classics embody some of the essence of human civilization. In the past, translators were restrained by their time and conditions, and unable to provide good works," Li explained. "But today, we have the resources for a complete, correct and wonderful adaptation of such works," he said in an interview with Western China Metropolis Daily.
Technological advantage
The online backlash he suffered at the beginning of this year has done little to frighten the translator or stop him from producing new publications.
"Li's four previous works all ranked No. 1 in sales. This strengthens our belief that his translations of world classics are the best," said Qu Hongbin, President of Guomai, at a book fair where Walden was debuted.
Since its publication, Walden has been regarded as a difficult book to read, meaning it must have also been hell to translate.
Written by American philosopher Henry David Thoreau (1817-62), Walden was listed alongside The Bible as one of "25 books that have shaped people's lives," a list produced by the U.S. Library of Congress in 1995. The work is known as combining a personal declaration of independence, social experiment, a journey of spiritual discovery, satire, and a manual for self-reliance.
In the eyes of many readers, being able to translate such a difficult work demonstrates a translator's profound knowledge. However, Li owes his success to online resources.
"We live in an information society. The Internet has greatly helped improve the process of literary translation," Li said.
As he sees it, mistakes and omissions must become fewer.
Li took the experience of famous Chinese translator Fu Lei (1908-66), who introduced a number of French classics to China, as an example. When the latter came across confusing passages during a translation, he wrote a letter to Paris, consulting the local expert directly. However, such correspondence took months, with resources still few and far between.