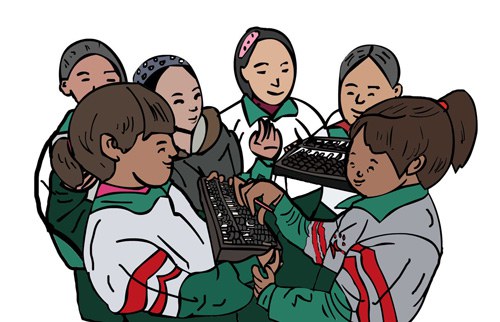 (LI SHIGONG)
Zhusuan is the name given to the techniques used on a Chinese abacus. It includes performing simple sums such as addition and subtraction, or far more complex operations including exponential multiplication. Zhusuan can be traced back to more than 2,500 years ago.
It is regarded as the fifth invention in Chinese history and was listed as a national intangible cultural heritage by the Chinese Government in 2008. Zhusuan was also officially listed as a UNESCO intangible cultural heritage on December 4, 2013.
Zhusuan used to be a basic skill that all financial workers in China would have known. For a long time, zhusuan was still taught to primary school students, and the practice is still in use in many rural marketplaces. However, the popularity of zhusuan has waned since the emergence of digital calculators.
Since zhusuan was announced as a world intangible cultural heritage, some have begun to advocate teaching the use of the abacus in primary schools again. This is said to be the best way to protect such a precious cultural artifact. However, others argue that while preserving zhusuan is important, this does not mean it needs to be taught in schools. The following are excerpts of opinions:
Wang Chaocai (news.china.com.cn): Zhusuan is an old method of calculating, and it can be helpful when solving some modern math problems. However, with the development of digital calculators, it is rarely used today.
Research proves that zhusuan can help develop children's intelligence. Currently, around 2 million children are learning zhusuan. This technique is believed to be able to develop students' concentration and retentivity as well as other measures of intellectual acuity. In turn, such improvements can help them perform better at school.
Wang Yaofeng (China Youth Daily): As an important invention, the abacus is also known as the "most ancient computer." It seems to be unavoidable that the abacus will give way to modern digital calculators and thus be marginalized and even abandoned by modern society. However, as part of the cultural heritage of China, zhusuan should be protected. Its inclusion on the world intangible cultural heritage list offers an opportunity for people to have a new understanding of this old calculating method and to further protect and develop it.
Many people criticized the decision to remove zhusuan from the primary school curriculum around 10 years ago, and suggested that schools reinstate the course. Indeed, zhusuan is a cultural heritage with a lot of value, but whether it should be brought back into the classroom is something that needs further discussion.
As a practical technique, zhusuan does not need to be brought back into the classroom, but as a cultural artifact that should be handed down between generations. It can also be well protected by museums and cultural centers.
If everything that is listed as world cultural heritage hopes to find itself in schools, and are also made compulsory courses, they may trigger students' resentment, instead of love and respect for these aspects of their own culture. This is not what we want to see.