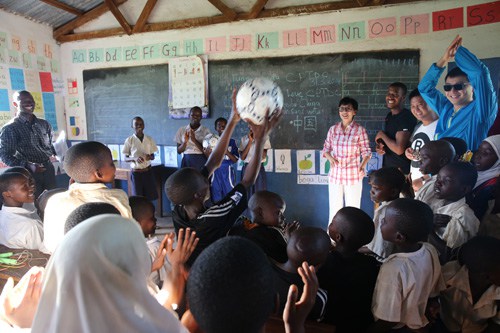 SOCIAL RESPONSIBILITY: Children play with soccer balls donated by China National Petroleum Corp. employees at a primary school in south Tanzania's Mtwara Region on April 3. The Chinese company is working on a 542-km gas pipeline in the country (XINHUA)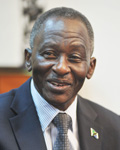 Abdulrahaman A. Shimbo (WEI YAO)
Five decades after forging diplomatic ties, China and Tanzania stand ready to inject new vigor into their traditional friendship, symbolized by the iconic Tanzania-Zambia Railway. Shortly before their golden jubilee, which falls on April 26, Abdulrahaman A. Shimbo, Tanzanian Ambassador to China, sat down with Beijing Review reporter Ni Yanshuo to share his thoughts on the latest development of bilateral relations. Excerpts follow:
Beijing Review: The Tanzam Railway is a symbol of the Sino-Tanzanian friendship, dating back to the early 1970s. How do you feel about the development of bilateral relations now?
Abdulrahaman A. Shimbo: Indeed, the Tanzania-Zambia Railway, famously known as the TAZARA, is the most iconic symbol of our two countries' unwavering and close relations. It is truly a remarkable example of China's selfless acts toward its friends, at a time when China itself had fewer economic, technological and military capacities. The TAZARA, which was completed in the early 1970s, served as a lifeline to transport goods to Zambia and other Southern African states, and take their exports to foreign countries during Southern Africa's struggle for liberation and beyond.
Right now, the focus is more on the mutually beneficial situation, whereby the two sides engage more on investment and trade activities and education pursuits for our youth. The impact of this new trend of cooperation is immense and felt in our country's economic growth, boasting billions of U.S. dollars in earnings that contribute to improving the quality of life of both countries. China is currently the leading partner in investment and trade dealings with Tanzania, including almost every sector ranging from energy, agriculture, agro-processing, mining and manufacturing, to tourism, education and health.
Tanzania was the first African country Chinese President Xi Jinping visited after he took office. During his visit in March 2013, he focused more on cultural exchanges. What is your view of this development between our two countries?
President Xi Jinping's visit to Tanzania is indeed very special and a loud political statement to the world that no matter what status China has gained economically at the moment, it has never forgotten its closest friends. We Tanzanians are forever grateful for this noble gesture and will always cherish this historic moment. Many important issues of mutual benefit to our two sides were concluded during this particular visit; regarding culture, I think the following could boost our cooperation: exchange programs of athletes in terms of training and coaching; increased assistance to scholars who wish to learn the Chinese language and Kiswahili; exchange visits between our traditional dancers and acrobats; and increased awareness of the importance of cultural tourism on both sides.
Tanzania suffers greatly from elephant poaching. Recently, China and other countries launched Operation Cobra II to crack down on wildlife poaching and smuggling. How do you see the two countries cooperating in wildlife protection?
There has indeed been a major struggle in conserving our wildlife for a long time. We thank China for being vigilant and using stern measures to fight the market for ivory and other related products in its sovereign boundaries. This fight needs concerted efforts from the international community. We strongly believe that as a united front, we can overcome the poaching syndicates, starting with decisive attacks against poachers, moving on to transporting companies and finally to the buyers. If buying stops, the killing can stop too. So, Operation Cobra II was really a ray of hope for our country's internal measures against poachers—and it clear to all illegal traders in this terrible business that China is not the place to profit from these dirty deals.
We have agreed to set up a joint working group between our two sides' responsible organs, mandated to combat this illicit trade, basically comprising personnel from ministries of public security and anti-corruption bureaus to exchange intelligence and work together to formulate tactics designed to clear up this filthy business.
Cross-border infrastructure is very important in African integration, and China is a veteran of infrastructure construction. What are your thoughts on China's role in promoting African integration?
Easing the movement of people and goods is one of the basic ingredients for any integration to prosper. African integration is not exempted from this fact and all the key players have always strived to improve the infrastructure crucially needed in keeping integration progressing. Thanks to China's finance-facilitating policies, African infrastructure is booming. Many Chinese companies are investing in African countries through bilateral arrangements as well as through agreements on regional blocs.
We have plans in the East African Community underway to join Uganda, Kenya and Rwanda to Burundi by railway line. We also have plans to join the TAZARA with another railway line to the Democratic Republic of the Congo. We believe in the impressive standards of Chinese technology in roads, railway and information and communications technology (ICT) facilities construction. China is performing wonders already, so no doubt we will both emerge as winners in this endeavor.
Last October, China and Tanzania signed a cooperation agreement in the science and technology sector. How do you see the future of cooperation in this field?
Economic cooperation—trading and investment—and political cooperation are still the driving forces for our unique historic ties. And within these pillars other avenues are made possible. So it was very exciting to see that in October 2013, during the official visit of Tanzania's Prime Minister Mizengo Pinda to China, another significant technical aspect of cooperation between our two countries was put into perspective. The two premiers witnessed the signing of nine agreements touching various sectors such as energy, agriculture, education, tourism and real estate development, among which science and technology featured immensely.
The future of cooperation in this category is very promising. We have had massive contacts in the field even before the actual inking agreement for closer cooperation this time around. The agreement is paving a precise roadmap for activities over a certain timeframe. We are gearing up for a transfer of technologies in various fiends, such as ICT, health and medicine, agriculture and marine life.
Chinese investment in Tanzania is rapidly increasing. What sectors do you feel should ramp up investment from Chinese companies?
There is no one sector that is superior in socioeconomic and political sustainability in any nation. You need them all to support the livelihood of your people and the prosperity of your country. However, due to limited finances and resources, planners are forced to have priorities for timely execution of plans, so as to ensure successful implementation. At the moment, our country is mainly focused on energy as power is crucially needed in driving industrial sectors, infrastructure development, agriculture, education and mining. The projects in these sectors are mostly viewed as fast income-generating vehicles, so they can yield funds for running other sectors that are socially of huge impact, but not directly generating fiscal benefits. For this reason, Chinese companies coming to invest in those mentioned fast money-generating sectors will be highly considered at the moment.
Email us at: yanwei@bjreview.com