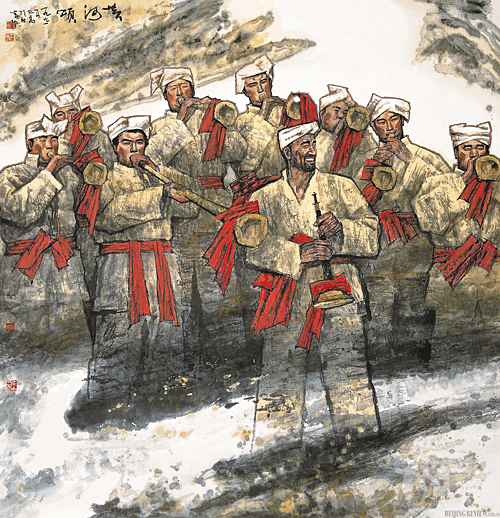 Ode to the Yellow River, created in 1991
'If you want to find an archetypical Chinese figure painter born in the 1940s and who grew up inland, you need look no further than Xie Zhigao," said Wang Luxiang, Vice President of Li Keran Art Foundation, a national-level foundation set up in 1998 to promote Chinese culture and commemorate well-known contemporary Chinese painter Li Keran (1907-89).
Xie, 72, is a veteran painter at the Beijing-based China National Academy of Painting. His inspiration always comes from real life. He paints people suffering from natural disasters such as earthquakes or floods. At other times, he depicts the everyday life of ordinary people such as farmers, construction workers and soldiers. His down-to-earth style was formed through his experiences of life in both China's cities and the countryside as he exhaustively trekked the country.
The evolution of a style
Xie started painting images from picture-books at a young age. He often read illustrated books and memorized them at the bookstall after school and drew his own copy back home because he could not afford to buy one himself. He not only practiced his drawing skills but also gave himself an opportunity to be more literary.
"Practice makes perfect. A beginner should first learn to paint painstakingly from visual memories and directly from real life, and compile mountains of sketches and notes in sketchbooks. Like an athlete, a painter can only hope to win after undergoing repeated arduous sessions of training. Art is magic, but it is also work," Xie said.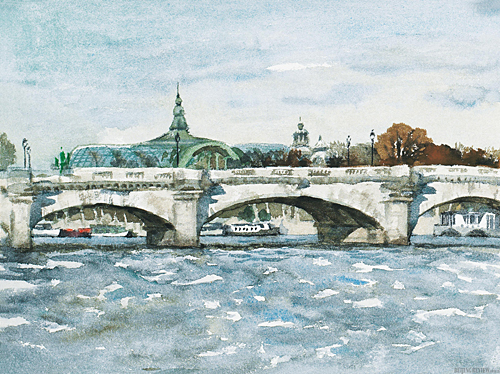 Breathtaking Beauty of the Seine, created in 2013
Xie was admitted to a vocational school affiliated to the Guangzhou Academy of Fine Arts in south China's Guangdong Province in 1958 and went on to major in Chinese painting at the academy.
When he was 16 years old, against the backdrop of the "great leap forward" movement (1958-60), Xie started to participate in some social activities in surrounding rural area while he continued to study painting. He spent at least one month a year laboring together with farmers in the villages.
"Living with farmers gave me a chance to observe the lives of 'ordinary people' and be inspired by them," Xie said.