In 1966, Xie graduated from the academy at age 24 and worked as an art designer at Hebei Fine Arts Publishing House in north China's Hebei Province.
During the "cultural revolution" (1966-76) period, he went back to farming, which gave him a deeper understanding of the situation in the rural areas of northern China. It was these experiences that paved the way for the artistic style he would eventually hone and perfect later in his life.
Xie painted All Things Are Grown by the Sun in 1975, earning him first prize in a national competition that same year and gaining him media attention. The painting tells the story of the occasion of Chairman Mao Zedong (1893-1976) inspecting the farms of Handan in Hebei. "I went to live in Handan and interviewed people who met Mao there as part of my research," Xie recalled.
On July 28, 1976, a deadly 7.8-magnitude earthquake ripped through Tangshan causing devastation in its wake. In spite of grave personal risk, Xie managed to gain access to the area around the mines at Tangshan merely three days after the disaster to conduct interviews. He created a series of harrowing paintings capturing in living color the attempts of the disaster-stricken people to rescue those trapped, tend to the wounded and rebuild their shattered homes.
Over the past 50 years, Xie has focused on changes taking place in his native land through the prism of people and landscapes. Taking the international art scene as a whole, where the concept of work is increasingly superseding the skill or flair involved in its execution, Xie remains doggedly faithful to craft. A strong advocate of realistic painting, Xie has painted a wide range of scenes in his figure portraits, including masterpieces such as Rejuvenating the Earth: Land Reform and Builders as well as many other delicate figure paintings.
Experience comes first
In 1978, he was admitted to the China Central Academy of Fine Arts (CCAFA), one of the most authoritative institutions of arts in the country, for his master's degree in Chinese painting. He was tutored by some of the most well-known contemporary Chinese painters of the time including Ye Qianyu, Jiang Zhaohe, Liu Lingcang, Li Keran, Li Kuchan and Wu Zuoren.
Xie was employed at the China Academy of Chinese Painting after two years of study and after eight years of teaching at the CCAFA, his work even attracted the patronage of the government. Despite this official recognition, however, Xie never separated his art from the lives of the ordinary people who served as his muse.
"I am one of them," Xie said. "I have always undertaken interviews before starting my creations. Life is the source of inspiration."
This principle of Xie's can be seen most clearly in his creations that were inspired by the disastrous floods in the Yangtze, Songhua and Nenjiang river basins which caused the collapse of nearly 5 million homes in 1998.
"Nobody wanted to go with me at that time. My family also tried to stop me. I told them, what I paint is people, I should be there to see how they work together to fight against the flood," Xie said.
| | |
| --- | --- |
| | |
| A Basketball Player, created in 1992 | Spring on Taihu Lake, created in 2006 |
Xie's unvarnished paintings hit the viewer at a gut level requiring no showy or excessive technical ornamentation. "This comes from the theme of my works: average citizens. It doesn't work without this stylistic choice," he said.
Traces of Chinese traditional painting objects such as landscape, birds and flowers married with the Western techniques of employing opacity and transparency can be found in Xie's paintings.
When Xie worked on the picture-book Spring Silkworms, adapted from the renowned Chinese writer Mao Dun's (1896-1989) novel of the same name, he combined techniques of traditional Chinese ink painting with Western realism.
"We should learn to appreciate ancient Chinese paintings as they give a sense of aesthetic and spiritual enjoyment," Xie said. Painters should find the right brushes to make the figures look vivid. However, it is not enough in the modern age. He says absorbing Western techniques provides his work with structure.
Xie holds that ancient Chinese figure painting is weak in its expressiveness. He suggests that studying Western methods "could strengthen our capability in this genre."
"This way, Chinese artists can make progress as well as better illustrate the time, the people and the society they depict," he said.
Arts should serve the people and be close to reality and life, according to Xie. "Art is not just the business of an artist. It should be accepted by as many people as possible. Art works should be spiritual products which can affect the whole of society."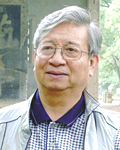 About Xie Zhigao
1942: Born in Shanghai
1966: Graduated from the Guangdong Academy of Fine Arts majoring in Chinese painting
1978-1988: Studied and worked for the China Central Academy of Fine Arts
1992: As a Fulbright scholar taught Chinese painting, calligraphy and Chinese history of fine arts at Furman University, South Carolina
1988-present: Has worked for the China National Academy of Painting (CNAP); accredited as a national first-level painter; currently a recipient of special government allowance