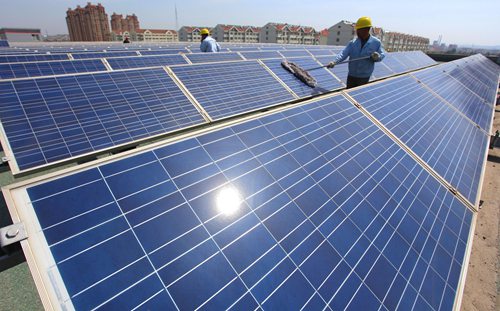 POWER FROM ABOVE: Workers clean up rooftop solar panels to prepare for the coming summer, a peak season for electricity consumption, in Jimo, Shandong Province, on May 12 (LIANG XIAOPENG)
 It seems Chinese solar exporters have hardly any time to catch a breath. Just when they think their business is going to bottom out following the settlement of a one-year trade dispute with their biggest export destination—the EU, yet another storm cloud is quietly gathering on the horizon.
On June 3, the U.S. Department of Commerce made its preliminary determination that it would levy anti-subsidy rates of 18.56 percent to 35.21 percent on Chinese producers and exporters of crystalline silicon photovoltaic (PV) products.
Punitive duties will be imposed after both the Commerce Department and the U.S. International Trade Commission make affirmative final rulings, which are scheduled for August 18 and October 3, respectively.
The solar imports from China under investigation were valued at an estimated $1.5 billion last year, the Commerce Department said.
It was the second U.S. investigation against Chinese solar products counting a similar one in 2012, which resulted in high anti-dumping tariffs up to 249.96 percent and countervailing duties up to 15.97 percent.
A hard-earned truce has already gone down the drain. The more important question is, are there more to come?
Reactions
The U.S. actions consolidated the second round of anti-subsidy and anti-dumping investigations into Chinese solar products started earlier this year, in response to a petition filed by the U.S. arm of German solar manufacturer SolarWorld.
The move is meant to close a loophole allegedly used by Chinese manufacturers since 2012, when the United States imposed tariffs on solar cells, the basic building blocks of a solar panel, made on the Chinese mainland. Mainland companies have been able to avoid paying the duties by assembling panels with cells made in offshore locations like Taiwan.
This new round of investigation seeks to close that loophole by extending import duties to also cover panels assembled in China from Taiwanese inputs or third-country cells made from Chinese inputs.
To do that, the United States has even revised its current regulation on how to determine the origin of a product.
"Revising current trade regulations to cover one individual trade dispute is unprecedented in the United States. It has a very bad impact and is contradictory to the 'free trade' and 'rule by law' principles that the country has always advocated," said Cao Yin, consulting director of Martec Group, a Shanghai-based consultancy.
With great competitiveness owing to cheap prices and a high level of quality, Chinese solar products have swept the North American continent. U.S. solar installations were worth more than $13 billion in 2013, according to research firm GTM. About half the solar equipment installed in the United States last year was made in China. In the fast-growing rooftop solar market, that figure was 71 percent.
The anti-subsidy duties will hurt the Chinese solar industry, although the overall impact should be limited given the fact that U.S. products accounted for only approximately 10 percent of Chinese solar shipments last year, industry analysts say.
"The import duties will wipe out the price competitiveness of Chinese products in the U.S. market," said Zhou Ziguang, an analyst with Ping An Securities.
One day after the preliminary decision was announced, China's Ministry of Commerce (MOFCOM) said the United States had "ignored the facts" and abused trade rules in order to protect its domestic industry, adding that the use of trade measures "would not solve the development problems afflicting the U.S. solar industry."