The Summer Lotus
In Guo Shifu's world, bright, flourishing peonies rest delicately atop indiscriminately outlined—yet purposefully placed—leaves. His masterful calligraphy says more than the words themselves, brush marks looping and trailing each other in a time-worn dance. Guo's is a world that knows no age or bounds; in his paintings, one can see a deliberate combination of art genres, all of which saw preeminence at one time or another in Beijing's past.
Born to an art family in the capital city in 1945, Guo learned his trade at a time when Chinese art was undergoing revolutionary changes. Many famous masters of their crafts were working to revive traditional Chinese ink painting with new thoughts and aesthetic standards. Naturally, Guo was deeply influenced by this revival at a young age. His art education began early on, when one day, while still a child, Guo's father gifted him a finely printed album of The Paintings of the Imperial Palace. From that day forward, his father instructed his painting practice every day. Guo's father was strict with his children; these first lessons laid an important and solid groundwork for themes that would be often repeated later in his art.
At that time, in the early 20th century, Beijing was home to many multitalented artists. They exchanged artistic works and thoughts and, as time went on, gradually evolved the then-prevailing genre of traditional ink painting. At the introduction of his father, Guo was swept into this circle of Beijing artists in the mid-century and made friends with many painters. This gave him a first taste of the prominent style of the time—cultured, elegant ink portraits of ornate birds and overflowing flowers. The bird-and-flower genre has distinctive features that are neither passed down from the formalistic traits of the late Qing Dynasty (1644-1911), nor from realistic Western oil painting styles of the time.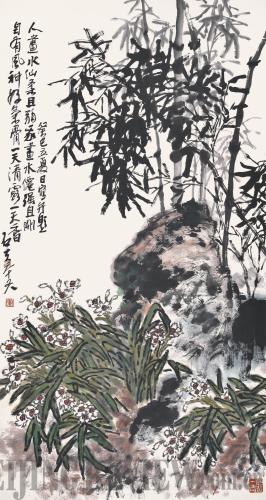 Narcissus, Bamboo and Rocks

China's great scholar Wang Guowei (1877-1927) once argued that the difference between Chinese and Western art was that "the loveable is not believable, and the believable is not loveable." During his childhood, Guo had been acutely aware of these differences in nature as portrayed by Chinese and Western paintings. He practiced imitating masterpieces from both China and abroad. At that time, too, the majority of Chinese artworks tended to imitate trends in the West, and oil paints prevailed over ink. Some radical Chinese artists even suggested abandoning traditional styles of Chinese art completely. But Guo understood that Chinese culture was a precious legacy left behind by his ancestors, and needed to be preserved and passed down throughout the generations.

Drawing on the past

Guo's works are both vivid and bold. His genre—traditional ink painting—can be traced back to the Song Dynasty (960-1279), when the freehand brushwork of flowers and birds originated. During the following centuries, most notably during the Ming and Qing dynasties (14th-19th centuries), this style reached its peak of popularity. By the 20th century, many artists attempted to revive and improve the traditional technique by absorbing Western art theories and practices and combining the two. Beginning in the 1980s, Chinese art again made profound changes under the influences of Western contemporary art, further clouding out traditional ink painting styles.

Guo, for his part, still insists on creating paintings in the old way. Today, after decades of persistent effort and painstaking practice, Guo has made remarkable achievements in the traditional art world, making his distinctive mark on the cultural heritage of ancient masters. In fact, he is widely recognized as one of the best contemporary painters to have achieved such a unique status. When traditional ink painting was on the decline in Beijing, Guo revived it, and rebuilt a taste for its distinctive characteristics.