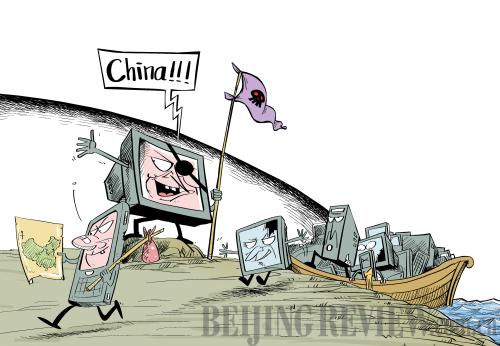 (CFP)
Meanwhile, foreign e-waste is also being smuggled into the country, said Hu Tao, chief scientist at the MEP and director of the academic board at the Policy Research Center for Environment and Economy.
"About 70 percent of the e-waste around the world has been transported to China," Hu said. "There are eight foreign e-waste collection and distribution centers in the country. Among these, Guangzhou's Guiyu Town in Shantou, Longtang Town in Qingyuan and Dali Town in Foshan are now gathering over 50 percent of that foreign e-waste in China," he said.
Legality aside, the processing procedures of these private facilities don't meet the international standard for a circular economy, said Hou Yuxuan, a research fellow at CIConsulting.
Disposal difficulties
Centralized e-waste processing has long been on the government's agenda.
Early in 2008, some 11 government departments in Shandong Province jointly formulated a regulation requiring all government departments and state-owned enterprises (SOEs) to hand in discarded electronics for centralized processing and disposal.
Beijing and Shanghai have also launched campaigns to encourage government departments to seek centralized e-waste processing by offering subsidies.
In January 2011, the Central Government released a regulation on e-waste processing, encouraging electronic appliance producers to solicit e-waste either on their own or by entrusting a third-party agency.
However, due to the high cost of collecting and processing e-waste, many companies lack the financial ability to implement the regulation. Internet searches for "e-waste collection" will yield individuals and privately owned operations disguised as official e-waste recyclers.
Producer Responsibility
In designing its own e-waste disposal mechanism, China should look overseas, drawing on the success stories of other countries, said Dai Xingyi, Director of the Urban Environment Management Center at Fudan University.
Western countries lead the helm of the green movement in terms of best practices for the circular economy. Apart from e-waste recycling channels provided by the government, many electronic appliance manufacturers and retailers offer their own disposal measures.
At the 2012 International Forum on the Sustainability of Consumer Electronics held in Qingdao, east China's Shandong Province, on July 6, Walter Alcorn, Vice President of the U.S. Environmental Affairs and Industry Sustainability of Consumer Electronics Association, said laws and regulations on e-waste in the United States differ from state to state. A total of 25 states have unveiled related laws, 24 of which require manufacturers to be responsible for the disposal of their e-waste. Only California stipulates consumers should pay for the disposal costs.
Europe was among the first to realize the importance of recycling e-waste. The Directive Waste Electrical and Electronic Equipment (WEEE) came into force on January 27, 2003, encompassing 10 product categories, amounting to more than 100 devices.
Since 2004, South Korea has begun to recycle e-waste with an annual average volume of 120,000 tons, according to the Korea Electronics Association. By 2010, a total of 112 enterprises had joined the recycling system. The implementation of the new regulation on levying an e-waste fund brings China closer to the producer responsibility scheme, said Dai.
But the biggest resistance to the scheme now comes from producers and manufacturers, said Dai. The government should regulate producers, making them responsible for collecting and disposing of a certain amount of e-waste in accordance with their production output. Meanwhile, those who produce polluting electronics but refuse to collect or dispose of their products should be levied with an environment protection tax.
Guangzhou may be in the midst of taking Dai's advice. Earlier in July, the CPPCC (Chinese People's Political Consultative Conference) Guangzhou Committee handed in a proposal to the municipal government suggesting the city adopt a producer responsibility scheme. After the proposal is put into practice, the city could set an example nationwide for safe e-waste disposal.
Email us at: lanxinzhen@bjreview.com