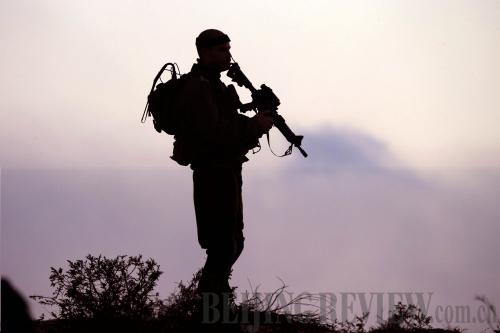 STAYING ALERT: An Israeli soldier patrols the border along Israel and the Gaza Strip on July 29 (XINHUA/AFP)
Operation Protective Edge against Hamas (the Islamic Resistance Movement) in the Gaza Strip of Palestine launched by Israel Defense Forces (IDF) has become one of the largest humanitarian crises to hit the region in recent years.
Israel began carrying out air strikes on the Gaza Strip on July 8 in a bid to end the rocket fire from Gaza. But Israel's military action has killed over 1,000 Palestinians at the cost of 53 Israeli officers and soldiers in the first three weeks of the operation. Despite heavy damage to arsenals, Hamas militants have not ceased launching rocket attacks on Israeli targets. The last military strike on Gaza was carried out by Israel on November 14, 2012 and ended under the mediation of Mohamed Morsi, then President of Egypt about a week later.
The trigger for this most recent bout of fighting was the killing of three Israeli teenagers and a 16-year-old Palestinian boy. The three Israeli youth were reportedly kidnapped and murdered in the West Bank on June 12. Israel blamed the murders on Hamas, which denied the accusation. Soon after, tensions between the two spiked yet again when a Palestinian teenager was found dead on the outskirts of Jerusalem on July 2.
Although the animosity between Palestinians and Israelis runs deep, there are more significant reasons why Israel decided to launch air strikes and a ground offensive in Gaza, said research fellow of Middle East issues at Beijing-based China Institutes of Contemporary International Relations (CICIR), Qin Tian, in an interview with Beijing Review.
Shielding fire
"For Israel, the major purpose of the operation is to destroy the rocket arsenals and underground tunnels through which Hamas militants smuggle weapons and infiltrate Israel to attack citizens and soldiers," Qin said in the interview.
Hamas has been committed to armed struggle against Israel since it was organized in 1987. As the largest Palestinian militant Islamist group, Hamas has also engaged in the Palestinian political process since 2005. Most notably, Hamas defeated the rival Fatah group and earned victory in the Palestinian Legislative Council elections in 2006. After clashes with Fatah, Hamas took over Gaza and set up a rival government in 2007, taking the security situation in Gaza out of Israel's control.
Due to frequent land, air, and sea blockades on the Gaza Strip by Egypt and Israel, Hamas built underground tunnels not just for military use but also for the trade of civilian goods. Hamas received support from its ally, the Muslim Brotherhood, which eventually earned a victory in Egypt's presidential election in 2012. Hamas then went on to build more tunnels and stockpile its rocket arsenal in Gaza, Qin said.
Israel launched military strikes on Gaza to destroy the stronghold of Hamas in late 2008. Over 600 rocket firing sites were destroyed and 30 km of tunnels were sabotaged by the Israeli forces. A total of 1,414 Palestinians—including around 700 Hamas members—were killed in the operation in addition to serious infrastructural damage.