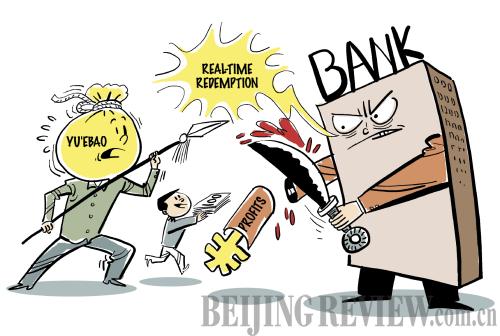 (CFP)
There once was a time when online financial products offered by Internet companies were viewed as formidable enemies by Chinese banks. Now, it's time for banks to lie back and breathe a sigh of relief.
The crown of Internet finance pioneers such as Alibaba is now slipping. Return on Internet financial products have been dropping for several consecutive months, triggering concerns over their investment value and raising the question of whether they will vanish from the market.
Losing luster
The flagship online investment product offered by China's Internet companies—Yu'ebao (literally meaning "leftover treasure")—was launched by China's e-commerce leader Alibaba Group and Tianhong Asset Management Co. Ltd. at the end of May 2013. The instrument allows users to convert spare cash into a money market fund holding.
Yu'ebao instantly created a splash and became China's biggest online investment service. The reasons why users chose Yu'ebao over traditional investment options included a much higher yield than the government-mandated deposit rate, the lack of a minimum deposit requirement and the ability to transfer and withdraw funds easily and quickly without paying commission.
According to Tianhong Asset Management Co. Ltd., as of May 26, Yu'ebao had over 100 million users with a total of investment of 574.2 billion yuan ($92 billion), making it the largest money market fund in China and the fourth largest in the world.
The good times, however, didn't last long. In fact, the return rate of Yu'ebao has been on a steady decline since January, when the annualized seven-day interest rate reached its highest level of 6.76 percent. On July 23, that rate was only 4.18 percent. Analysts predict it will decline to less than 4 percent in August. The benchmark one-year bank deposit rate is 3 percent.
"In the long term, the interest rate of Yu'ebao will stabilize at around 3-4 percent," said Yi Huanhuan, deputy head of the research institute affiliated to Hongyuan Securities Co. Ltd.
New deposits in Yu'ebao took a nosedive in the second quarter. It attracted nearly 33 billion yuan ($5.28 billion) new deposits during the period, less than 10 percent of the new deposits recorded in the first quarter.
The growth in user base has also slowed down. The number of Yu'ebao users almost doubled from 43 million at the end of 2013 to 80 million at the end of March, but only increased to 100 million by the end of June.
Wu Xiaoling, former vice central bank governor, said Yu'ebao doesn't have much room in terms of future development. "Yu'ebao has reached its peak."
Yu'ebao is not an isolated case. Online Internet companies-backed wealth management products such as Tencent Holding's Licaitong and Baidu Inc.'s Baizhuan, have also witnessed a continued decline in return rates.
Banks strike back
Experts say the continuous drop in Internet financial products' interest rates can be attributed to the decline in interbank lending rates since early April.
Back in June last year when the products were launched, the money market was suffering a serious capital crunch, forcing interest rates to jump sharply. Online fund products benefited from the surge in money market rates and were able to offer high return rates for investors.
But as the money market situation stabilizes and interest rates fall, the return rates for online funds such as Yu'ebao have dipped accordingly.