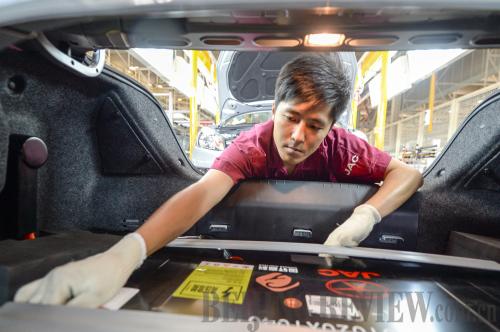 GREEN VEHICLE: A worker examines the battery box of a new-energy car in a workshop of JAC Motors, a carmaker in Anhui Province, on July 15 (GUO CHEN)
As the atmosphere is increasingly affected by the burning of fossil fuels, the use of new-energy cars, theoretically including electric vehicles, plug-in hybrid electric vehicles and fuel cell vehicles, represents an inexorable trend for the automobile industry.
Demonstrating a greater resolve to boost the fledgling new-energy car sector, Chinese authorities have released a fresh set of policies to stimulate the popularization and application of new-energy cars, aiming to push forward the construction of fast-charging facilities, promote their use in the public service sector and break up local protectionism.
On July 30, the National Development and Reform Commission (NDRC), unveiled a plan to offer preferential electricity charges for the electric-car sector. The announcement came 10 days after the State Council, China's cabinet, issued guidelines for promoting new-energy vehicles.
Discounted power prices will be offered to operators of public charging facilities before 2020, in addition to operational subsidies and free business sites, said an NDRC statement.
Earlier on July 9, the State Council decided to exempt new-energy vehicle buyers from the 10-percent purchase tax starting from September 1 to the end of 2017.
Miao Wei, Minister of Industry and Information Technology, described the recently released supportive policies as highly target-specific and practical, believing they will revitalize the new-energy vehicle market and accelerate its development.
Aside from that, the Central Government allegedly will publish its fiscal support for the promotion of new-energy cars from 2016 to 2020 at the end of this year, which implies that financial subsidies will be continuously available after the current subsidies expire in 2015.
The State Council released the Plan for the Development of the Energy-Saving and New-Energy Automobile Industry (2012-20) in July 2012. It sets a target of producing and selling 500,000 pure electric and plug-in hybrid vehicles by 2015, and 5 million such vehicles by 2020.
According to statistics from the China Association of Automobile Manufacturers (CAAM), the output and sales of new-energy cars in China respectively reached 20,692 and 20,477 units in the first six months of 2014, up 230 percent and 220 percent year on year. The output and sales of electric vehicles stood at 12,185 and 11,777 units, and that of plug-in hybrid electric vehicles registered 8,507 and 8,700 units.
Yet, compared with the 11.68 million vehicles sold during the same period, the sales of new-energy cars represented a drop in the ocean, accounting for a mere 0.2 percent of the Chinese market.
"Upholding the popularization of new-energy cars seems an inevitable next step in our national strategy," said Chen Qingtai, a research fellow with the Development Research Center of the State Council, pointing out that it will contribute to cutting China's carbon emissions.
Possible benefits
These days, buses and taxis have become a major source of air pollution in China's urban areas, which—though constituting 1.7 percent of the total registered motor vehicles in the country—contribute 27 percent to total oil consumption and exhaust gas emissions.
Du Guozhong, a PR manager for BYD Auto, a leading electric car maker in China, held that a wider application of new-energy vehicles in the public transportation system will dramatically reduce fossil energy consumption and alleviate symptoms of environmental pollution such as haze.
According to rough calculations, if the 1.2 million taxis and 500,000 buses in China were replaced by electric vehicles, 34.5 billion liters of fuel oil would be saved and 87.37 million tons of carbon dioxide emissions would be slashed.
Industry insiders believe the government's drive to promote new-energy vehicles will also catalyze China's industrial transformation and upgrading and help figure out new growth points by reshuffling overcapacity-plagued industries such as iron and steel manufacturing and battery production. Moreover, the new policies are designed to encourage the innovation of business models and then nurture the development of a number of competitive enterprises.