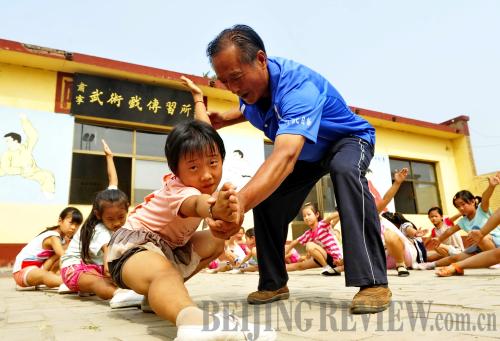 KUNGFU ART: Children learn martial arts from an old master in Beibaisi Village, Suning County of north China's Hebei Province, on July 28 (YANG SHIYAO)
This summer, Wang Tianshu, a 13-year-old junior middle school girl from Qingdao, east China's Shandong Province, signed up for a course at Beijing's New Oriental Education & Technology Group, a renowned Chinese training institute focused largely on English instruction.
"I chose to attend the course entirely on my own will because I want to improve my English speaking and listening proficiencies," Wang told Beijing Review.
Every year, primary and middle school students like Wang travel to Beijing from across the country to take classes at New Oriental. A seven-day course, including meals and accommodation, can cost anywhere from 3,000 to 4,000 yuan ($485-645). Over 14,000 students swarmed to the company's Wudaokou campus on July 12 for registration, according to the China Business Press Release Newswire.
Summer vacation in China lasts two months, from early July to the end of August, and children spend their time off undertaking numerous pursuits. But because Chinese parents attach such great value to education, they want their kids to enjoy the holiday while still learning something useful in the long run.
Higher expectations
Beijing resident Pan Tong, whose 15-year-old daughter has attended two summer camps in the United States, said that while Chinese education focuses on improving students' academic performance, their other abilities often do not receive adequate attention. This includes teamwork and social responsibilities—skills that should be cultivated during the time away from school.
Pan's view is echoed by many middle-income parents who have turned away from training courses or summer camps at home to so-called "study abroad tours," which are high priced but becoming increasingly affordable for most middle-class families.
Such programs are often offered through travel agencies or training schools. According to one Beijing travel agency, half of the applicants choose the United States as their destination, while 30-40 percent head for Britain, Canada and Australia. A two- to three-week trip may cost anywhere between 30,000 and 50,000 yuan ($4,850-8,075). The tour usually includes activities such as English-language courses, interacting with local students, and visiting prestigious foreign universities and famous tourist destinations.
Zhang Xiaochen, a fourth-year student at the Renmin University of China Affiliated Primary School, has attended several summer camps in the United States over the past few summer vacations. At one residential camp, Zhang was impressed by outdoor activities like swimming in cold water at 6 a.m. and riding a mountain bike on bumpy roads in stormy weather.
Initially, those who went on such summer tours were high school students from affluent families in first-tier cities like Beijing and Shanghai. However, in recent years, more and more junior middle school and even primary school students from second- or third-tier cities have been traveling abroad as well. Parents want their children to experience foreign cultures and prepare for future overseas studies by attending such programs.
Though many tours have fallen short of expectations—activities promised by travel agencies often don't pan out like in the advertisements—such summer vacation tours have become a trendy option for many Chinese children.