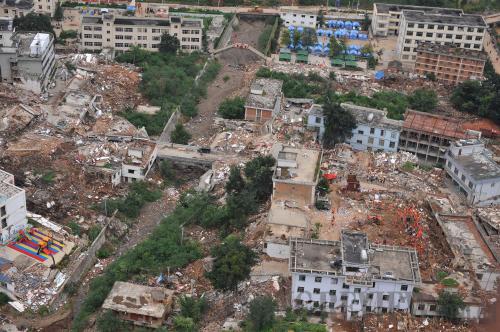 LEVELED: This aerial photo taken on August 4 shows buildings toppled down by a 6.5-magnitude earthquake at the epicenter in Longtoushan Township (XUE YUBIN)
A 6.5-magnitude earthquake struck southwest China's Yunnan Province on the afternoon of August 3, toppling houses and triggering landslides, leaving 615 dead and more than 3,140 injured as of August 7.
As the most powerful earthquake to hit Yunnan in 14 years, the earthquake, whose epicenter was at Longtoushan, a township 23 km southwest of the county seat of Ludian in the city of Zhaotong, is so far the third-deadliest earthquake in China since the beginning of this century, after the 2008 Wenchuan Earthquake in Sichuan Province, also in southwest China, which killed more than 69,000 people, and the 2010 Yushu Earthquake in northwest China's Qinghai Province, which claimed a death toll of nearly 2,700.
The disaster has affected 1.09 million people in Zhaotong and its neighboring city of Qujing, and necessitated the emergency evacuation of about 230,000 people from the area, according to an announcement by the Yunnan Civil Affairs Department on August 4.
Around 25,500 houses collapsed in the quake and 39,200 houses were seriously damaged, the department said.
The severe damage and death toll caused by the quake have come as a consequence of the poor quality of local buildings, the area's dense population and the quake's shallow epicenter.
"Most rural houses in the county were made of bricks and wood and some even use mud walls built decades ago, which makes them too weak to resist an earthquake such as this," the China Earthquake Administration commented in a statement.