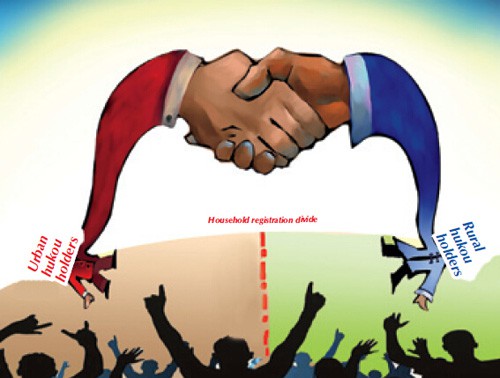 (CFP)
Xu Jingyong, an economics professor with Xiamen University, said that large and megacities are more attractive to migrant workers because they have more jobs and better public services, but it is very difficult to get a hukou there. Xu said equalizing social welfare and public services between urban and rural areas is an urgent task.
Removing the distinction between urban and rural hukou is not a fundamental solution, but only a beginning, while the eventual goal is free migration and equal welfare and social insurance, said a netizen named Qingfeng.
Migrant workers should be entitled to equal public services and welfare in the places where they work and pay tax, regardless of their hukou status, said Zhang Yi, Deputy Director of the Institute of Sociology, Chinese Academy of Social Sciences (CASS).
People-oriented approach
During the urbanization process, the wishes of citizens must be respected, and rural residents should not feel "compelled" to go to cities, the guidelines said.
The CASS surveyed 110,000 migrant workers in 2010, asking whether or not they would prefer an urban hukou. About 80 percent of those respondents born between the 1960s and '70s said they would not, and only 25 percent of those born in the 1980s said yes. When asked if they would want to give up their contracted land in return for urban hukou, about 90 percent replied that they would not, reported the Guangdong-based Yangcheng Evening News.
In recent years, as urban residents no longer enjoy as many privileges under the market economy and rural social insurance improves, the appeal of urban hukou has reduced.
Another important reason behind this disinclination is that villagers do not want to lose their rural residence and the farmland contracted to them. Farmland provides a guarantee to migrant workers. Should they lose their city jobs during an economic downturn, they can return to their home and land, said Zhang.
In China, rural housing sites and land are collectively owned by farmers. Article 10 of the Constitution stipulates, "Land in the cities is owned by the state. Land in the rural and suburban areas is owned by collectives except for those portions which belong to the state in accordance with the law; house sites and private plots of cropland and hilly land are also owned by collectives."
This is also stated in the Land Administration Law, which spells out the standard compensation for rural land as appropriated by the government. In recent years, as land prices have soared, farmers have received higher compensation for land bought by the state.
To alleviate migrant workers' concerns about losing their "nest eggs" back home, the guidelines state that, "At the present stage, migrant workers should not be required, as a precondition to settle in cities and get urban hukou, to give up the right of use for the contracted land and home sites, and their share of collective income."
Farmers' rights to use contracted land and housing sites should be clearly defined, registered and certified; they should only be encouraged to trade these rights willingly and in accordance with the law, the guidelines say.
Email us at: wanghairong@bjreview.com
Timeline of Hukou System in China
1958 The Standing Committee of the National People's Congress adopted Household Registration Regulations, which strictly restricted migration from rural to urban areas and between urban areas.
September 1985 The Standing Committee of the National People's Congress promulgated the Residents Identification Card Regulation. Identification cards were issued to both rural and urban residents.
October 1, 2001 Household registration reform was launched in more than 20,000 towns and small cities. Migrants with fixed domicile and legal income could apply for urban hukou.
November 2013 The Third Plenary Session of the 18th National Congress of the Communist Party of China decided to accelerate reform on the household registration system.
July 30, 2014 The State Council published the Opinions on Further Promotion of the Reform of Household Registration System, under which urban and rural residents should no longer be distinguished from one another.
(Source: The Beijing News)