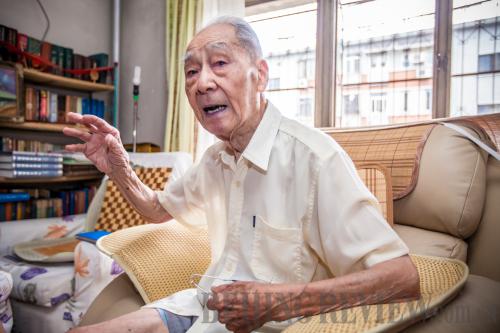 FOUND IN TRANSLATION: Xu Yuanchong in his Beijing apartment (ZHENG LIANG)
Shelves of books, a computer, and perhaps most importantly, a creative mind—these are what Xu Yuanchong, an award-winning Chinese translator, counts on when creating literary ties between speakers of Chinese, English and French.
Xu, 93, has published more than 100 translated novels, anthologies and plays in the three languages, reaching potentially millions of readers at home and abroad. His most recent project is a new Chinese version of William Shakespeare's 40-volume collection, which he plans to finish in five years.
"I want to surpass all previous translations in accuracy and beauty," Xu said.
The International Federation of Translators (known by its French acronym FIT) has recently awarded the prolific translator for his contributions to cross-cultural exchanges. At a congress in Berlin on August 2, the FIT granted Xu the 2014 Aurora Borealis Prize for Outstanding Translation of Fiction Literature, which according to the federation "signifies recognition of the 'best of the best' by one's peers around the globe." The award came at the culmination of Xu's decades-long pursuit of excellence in translation. He is the first Asian translator to have received the honor since its inception in 1999.
Unable to attend the award ceremony, Xu commented on the prize from his Beijing home, saying, "The FIT award is not just for me, but gives prominence to the value of Chinese culture."
Narrowing gaps
Xu's career as a literary translator dates back to his college years. In 1939, as a student at the National Southwestern Associated University in Kunming, southwest China's Yunnan Province, he published an English translation of a poem by female architect and writer Lin Huiyin titled Do Not Throw Away.
He has since developed his own translation style, characterized by making his adaptations readable and relatable to the target audience by changing the initial wording when necessary. In his view, a translation should be as beautiful as or even more so than the original.
Xu started to practice this new approach to translation in the early 1940s when he worked as an interpreter with the Flying Tigers, a U.S. volunteer air force based in China during World War II. At a reception for U.S. pilots, he translated Kuomintang founder Dr. Sun Yat-sen's Three Principles of the People, the party's guiding ideology for which an English equivalent is notoriously difficult to find, into "of the people, by the people, for the people," a reference to U.S. President Abraham Lincoln's famous statement in the Gettysburg Address.
Most notably, he has translated classical Chinese poems into rhymed verses in both English and French. His translations range from Book of Poetry, the oldest Chinese poetry collection that features works from the 11th-6th centuries B.C., to late Chairman Mao Zedong's poems.
As he works to introduce Chinese classics to the West, Xu finds that time-honored Chinese wisdom could make an impact on Western societies and the world at large. For instance, a 1,200-year-old poem titled Fishing in Snow may even have helped U.S. President Barack Obama win over a Republican senator on his controversial healthcare reform, according to Xu. The poem reads:
From hill to hill no bird in flight;
From path to path no man in sight.
A lonely fisherman, behold!
Is fishing, snow on river cold.
The senator might have been so impressed with the fisherman's independent, non-conformist thinking after reading the poem that he might have opted to part with the party line to support Obama, Xu argued. The proof: Obama sent a thank-you letter to Frank Xu, Xu's son and a freelance translator in the United States, who e-mailed the poem to the Republican senator in question.