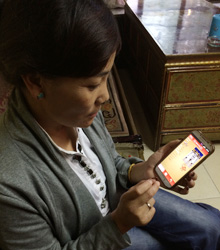 USEFUL AND CONVENIENT: Sangye uses the Tibetan-language calendar app on her smartphone on July 13 (ZAN JIFANG)
With a myriad of mobile apps spanning a vast array of subjects available for download these days, it's no surprise that one developed in Tibetan language for people in southwest China's Tibet Autonomous Region has enjoyed wide popularity. The software, created by a research group together with Tibet University, has been available since October 2013. It has already been downloaded by 50,000 people and counting, said Rinchen Norbu, an associate professor at the Research Center on Tibetan Language Information Processing at the university in Lhasa.
"Like people in other regions, many people in Tibet use smartphones today, and this prompted us to develop an app in the local language," Rinchen said. "We hope it will make life easier for Tibetan people and let them enjoy the fruits of technological progress."
Sangye, an office worker in Lhaze County in southwest Tibet, downloaded the app on her smartphone for her mother. It can tell users the date of the day according to the Tibetan calendar and inform them if it is a traditional Tibetan festival, what celebrations are involved, and other information related to the date.
"It has a voice service, which is convenient for older people like my mother, as most of them cannot read the small letters," said Sangye.
According to Rinchen, the app is widely used by farmers and herdsmen, who rely on mobile Internet more than others. Other popular apps among Tibetan users include digitalized Tibetan literature classics, and games such as Tibetan-style mahjong.
"These apps not only bring convenience to people's lives, but help to pass down Tibetan culture through technology," he said.
The Tibet University research center where Rinchen works was founded in 2006. It merged the departments of Tibetan literature and computer science, and now focuses largely on the research and development of Tibetan-language software. Apart from their specialized app, the center has also finished developing a Tibetan-language input method that comprises keyboard, handwriting and voice input. "It greatly shortens the time to input Tibetan into a smartphone," Rinchen said.
The center also developed an online dictionary that can translate between Mandarin, Tibetan and English, and cooperated with others to develop teaching software for the three languages.
Perhaps the most important achievement of the center is to have compiled international and national standards on Tibetan-language information processing, said Zhao Dongcai, a researcher with the center. "Our center made many technological breakthroughs in Tibetan character processing, and the completion of information processing standards shows that China is leading the world in this area," Zhao said.
Additionally, while engaging in research and development, the center also places an emphasis on teaching. "Our teaching faculty is academically outstanding and our research group has been lauded by the Ministry of Education as having creative spirit," Zhao noted.
Today, the center admits students for bachelor's, master's and doctoral degrees. The Tibetan-language information processing major has been popular with candidates.
Sonam Tsedron, 23, is a student from Amdo County in north Tibet in her third year of the major. "I chose the major because it combines my native language with my hobby—computer science," Sonam said.
"Studying here provides me with the chance to participate in state-level research projects and work with classmates of other ethnic groups. We learn from each other's cultures and make friends," she added.
During the winter and summer vacations, Sonam volunteers in her hometown, teaching basic computer knowledge to children in primary schools there.
To help more Tibetans enjoy the convenience of Tibetan-language software, the research center has made it their mission to popularize their end products. Since 2009, the center has introduced the mobile app to 74 county-level regions in Tibet, as well as some Tibetan-inhabited areas in Qinghai, Gansu and Sichuan provinces. They have trained more than 1,000 people to use the software and have presented their products to over 20,000 people for free.
"The aim of our efforts is to advance the continuation and development of Tibetan culture through technology," Zhao said.
Email us at: zanjifang@bjreview.com