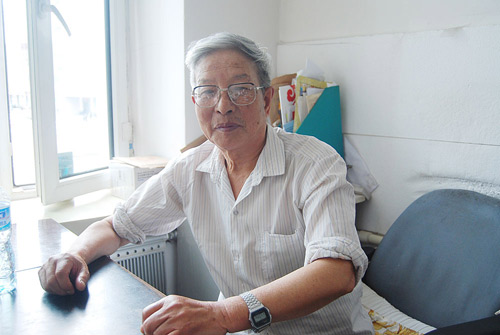 Wang Bingci (CHEN RAN) 
In 1947, when Wang Bingci, then 13, settled down with his family in Harbin City from his hometown in east Shandong Province, he never thought that he would witness and record the changes in the city through his lens. Serving in Harbin's oldest photography studio Zhenmei (literally "So Beautiful" in Chinese) from 1965 to 1995, Wang experienced the black-and-white film era to the color one.
"Sometimes it feels like I'm telling stories when I chat with others about my unusual and interesting working experiences," Wang told Beijing Review with a big smile. "After all these years, it seems that I was right to choose photography."
A worthwhile job
Wang continued his studies soon after settling down in Harbin and gradually became interested in photography. Getting a job was his priority after finishing junior high school.
"There was little choice for the job. Since I was interested in taking photos, I decided to learn photography with a senior photographer at Zhongsheng Department Store in downtown Harbin," he recalled.
Wang was assigned to Jiamusi City, some 500 km away from Harbin, to work as a professional photographer in 1951. His work ranged from baby photos, birthday photos and credential photos to portraits, conference group photos and scenic landscapes. In 1960, he was recommended for admission to the Heilongjiang Service School (a kind of vocational school) for further education in photography due to his work excellence. Wang joined a branch photography studio of Zhenmei in 1965 after serving in the service school as a tutor.
"The technology today is more advanced - people can take photos with digital cameras or mobile phones. But photo-taking was quite rare and considered a delight for ordinary people some five or six decades ago, when living conditions were relatively poor," Wang said. "Besides credential photos, people in the city would go to a photography studio only on important occasions like family reunions, weddings and festivals. Some people in remote areas had never seen a camera."
There were four top photography studios - Zhenmei, Sanyou, Harbin and Songhuajiang - in Harbin in 1957. Prices at those four studios were a little bit higher than at the others because of their superior skills in photo taking, editing and developing.
"All the photos we took, except for the credential ones, would have our studio's name on the bottom right, which was a lure for customers. It was worth all the hardship and tiredness as long as we saw customers' smiling faces," Wang said.
Serving the people
In 1966, Wang was promoted to head of Zhenmei Photography Studio, and every year since then his team had spent a whole month during the low season bringing photography equipment to people in remote mining and forest areas until the mid-1970s. They prepared food themselves and took various kinds of transportation to save time and money.
An incident that occurred in Yichun forest region in late 1960s remains fresh in Wang's memory. Having finished their mission, Wang's team was riding a loaded timber train heading for Harbin when the timber hitch knots suddenly broke down. All the timber had fallen down, and more dangerously, the train brake was out of order. Under the circumstances, someone suggested that they jump off the train immediately. Fortunately, the train stopped a few seconds later, and no one was hurt.
"Our mission was totally voluntary--it was all about enthusiasm for serving the people with heart and soul," Wang said. Their footprints covered all parts of Heilongjiang Province in the following years; the furthest area was Daxinganling in the northern border area.
A plain life
As the peak time of "educated youth" (or zhiqing in Chinese, referring to millions of young people who during the "Cultural Revolution" (1966-1976) volunteered or were forced to work in the countryside under a directive from China's then leader Mao Zedong) returning home arrived in the mid-1970s, Wang and his team had to work more than 10 hours a day to take photos for them; the volunteer program stopped because they had no time for it. A few years later, Wang's major task moved to wedding photos as they became popular.
The wedding photos Wang took at the time were all black and white. One set was less than 30 yuan ($4), including a half-length 4R (4"×6") couple portrait, two 6R (6"×8") individual portraits, an 8R (8"×10") full-length couple portrait and a 12R (8"x12") enlarged couple portrait with manual color.
"Unlike photography studios today that offer different styles of wedding dresses and background settings, we had only one set at the time. The standard pose for newlyweds was sitting shoulder to shoulder," Wang recalled.
"To be honest, they looked really uneasy as 10 300-watt light bulbs were turning on at the same time, so I tried my best to capture the moment by letting them relax," he added.
Zhenmei Photography Studio began using color film in 1986. Hand-painted background settings and various stage props and costumes added more color to the studio.
"People enjoyed better lives and broader minds, thanks to the reform and opening-up policy," Wang said. "The immediate change I felt was that photographers felt less nervous and tended to express themselves more."
Wang retired in 1995 and has led a simple life since then, playing chess and taking walks. He lingers whenever he walks past the photography studio, staring at the photos hanging in the windows and remembering the old days.
Wang's career seems a bit plain, since he never received awards or honors in 30 years; he has no portraits of himself at all, even though his camera recorded hundreds of thousands of faces. But he takes pride in the fact that, out of the four top photography studios in Harbin in the 1950s, Zhenmei is the only one still around.
"Photos are the most vivid and visual proof of their time. The photography studio is sort of a technical industry in the service sector, which requires more specific categories for future development and competition," Wang said.
"The secret to becoming unbeatable is to keep up with the times in terms of training talent, updating equipment and readjusting the mind," he continued. "Although I don't have any photos of myself, through my lens I can truly feel the better life that people enjoy, the pleasant changes that Harbin experiences, and the promising future the country owns."