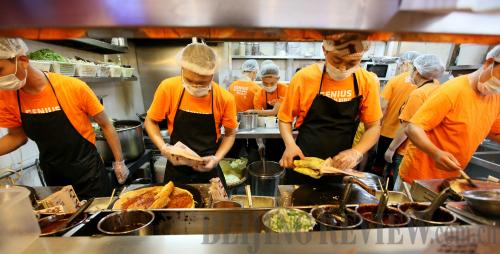 WHERE THE MAGIC HAPPENS: Chefs busy preparing jianbing at a Huangtaiji store on August 27, 2013 (CFP)
Zhang Tianyi, a 24-year-old man with a master's degree from the prestigious Peking University, had no any work experience before opening a rice noodle restaurant at Beijing World Finance Center.
Zhang opened the restaurant before graduating. When his classmates were all busy job hunting, Zhang was busy preparing his own business. On April 4, Zhang's restaurant, named Funiutang, which translates as "crouching cattle," was opened at Beijing World Financial Center, with a floor space of around 40 square meters.
Despite its diminutive size, Funiutang also enjoys queues stretching out the door at lunch and supper time. He attributes the restaurant's popularity to his being the first to offer this kind of food in Beijing. Instead of hiring servers, Zhang has instead set out three garbage bins for food residue, plastic and paper, respectively. He encourages customers to serve themselves and dispose of their trash properly.
In June, Zhang opened a branch in a small lane beside the second ring road in east Beijing. "I don't think studying for a master's degree then opening a restaurant is a waste," said Zhang. "I studied law for six years but there is another more important thing that I learnt from my university is to be brave enough to follow my heart. To open a rice noodle restaurant was my dream for years and I am happy to make it happen."
Zhang also has the ambition to change the traditional image of restaurants and incorporate both cultural and hi-tech elements. On September 1, Funiutang became the first restaurant in Beijing to adopt fingerprint payment.
The future
There are quite a few similarities between these success stories—the founders are all young, well educated and have ambition. Huangtaiji's owner hopes to get listed on New York Stock Exchange. Xishaoye also wants to spread Shaanxi's food worldwide in a similar fashion to McDonald's.
They also all know how to use Internet to promote their companies. Meng from Xishaoye simply said "my thinking is still influenced by my time at Baidu."
But does the food taste good? This is the acid test of any establishment serving food. On Dianping.com, a website that allows public reviews, more than 50 percent of the reviews complain about the Huangtaiji's pancakes. "The owner is too busy at promoting, and has no time to take care of his product," said one reviewer. "It is even not as delicious as the street vendors, but it's more expensive. I will not come back."
In response, He insisted he spends the most time on ensuring the taste of pancake no matter how busy he is, but it's not possible to satisfy everybody. "If it is as bad as what they say, how can you explain the long lines every day?"
Compared to criticisms of flavor, Xishaoye's problem is an even bigger headache. Song, one of the original founders, left in August and opened a new roujiamo eatery by himself. They didn't reveal the reasons in detail but a news report from Economy & Nation News Weekly mentioned it was over financial disagreements.
Zhang, as the only owner of his restaurant, has no such issues but he felt his original expectation for running a restaurant was overly idealistic. "People still don't show enough respect for restaurant staff and it is tiring to get up very early and work till late at night every day."
But Zhang has never regretted his decision. "It is exciting to have a business that I love with passion, I just need time to get adjusted."
Huangtaiji is already planning to open a branch in the United States. "Nothing is impossible," said He. "When I wanted to open a jianbing eatery in Beijing, nobody thought it would make money except for my wife. Now you can see we are growing a lot faster than I could have hoped. Let's see."
Email us at: yuanyuan@bjreview.com