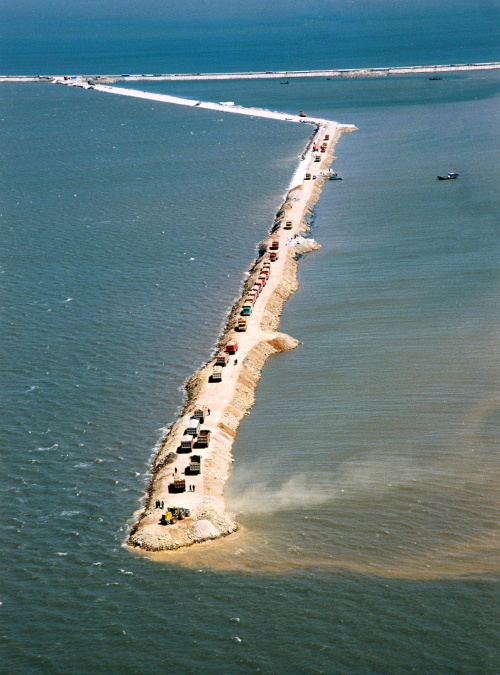 CROSS-SEA CONNECTION: A highway linking the mainland and Caofeidian makes it possible to develop the former island into an industrial powerhouse, in north China's Hebei Province, through the process of land reclamation (XINHUA)
Since the opening of the Tangshan-Caofeidian Highway in 2003, there has been an upsurge in development on the island. Billions of dollars have been spent constructing the new port. In just a few years the ocean has receded and large tracts of land occupy where the sea had once been.
Situated on the northern shore of Bohai Bay, the new area of Caofeidian is an important growth engine for the Bohai Economic Rim encompassing Beijing, Tianjin, Hebei and Shandong Peninsula. According to official sources, this new area is slated to cover an area of 1,944 square km.
According to existing plans, it will reclaim 487 square km by 2020, including tidal flats, salt marshes and coastal aquaculture land. This number represents 77.3 percent of the usable land area for the new Caofeidian.
Amid the frenzy of land reclamation, there have been an increasing number of unlicensed projects. In 2009, the SOA's North Sea Branch acknowledged publicly that much of the land reclamation around Bohai Bay was unauthorized. In Caofeidian alone, an earlier survey found 10 cases of unauthorized land reclamation.
According to China's Marine Environmental Protection Law and the Law on the Management of the Use of Marine Areas, all land reclamation projects involving 0.5 square km of land or more must get approval from the State Council, China's cabinet. However, developers simply split large projects into several smaller areas, which only require local government oversight according to current regulations.
From 2007 to 2009, the SOA found more than 140 square km of unauthorized reclaimed land along the country's coastline.
In 2010, during an inspection of the Jingtang reclamation project in Caofeidian, the Tangshan Branch of the China Marine Surveillance found that the actual reclaimed area had exceeded the approved area by 0.07 square km.
Environmental deterioration
Since most land reclamation projects have taken place in bays, like Caofeidian, much of the coastline has been abnormally straightened almost overnight and water quality near the reclamation sites continues to deteriorate.
According to an article published in China Land magazine in 2010, China's coastline receded by almost 2,000 km between 1949 and 2010, and more than half of China's coastal wetlands were lost.
Jiaozhou Bay, located on the southern coast of Shandong Peninsula, has seen the most reclamation over the past decades. Its coastline retreated by 35 percent between 1928 and 2005. Bohai Bay's coastline retreated to 5,139 km in 2000, a loss of 260 km from the 1970 level.
The direct consequences of massive land reclamation and coastline regression are the losses of wetlands and mangrove forests. In 2010, the SOA found that the expansion of Tianjin Binhai New Area through land reclamation had resulted in a remarkable reduction in local wetlands.
"The loss of wetlands from land reclamation can worsen droughts. Diminishing wetlands mean less evaporation and a reduction in rainfall," Jiang with the CAS said. "North China has suffered very dry weather in recent years, with levels of precipitation falling year on year, and this is related to the many ponds and pools that dry out and are built over."
According to Jiang, wetlands also form a buffer between the ocean and the land, absorbing much of the ocean's force. "Land reclamation destroys this natural buffer, and can have potentially disastrous consequences," he added.
Meanwhile, there has also been a 70-percent decrease in mangrove forests. Unofficial statistics show that land reclamation has led to China's mangroves forests shrinking from 500,000 hectares in the 1950s to 150,000 hectares in 2010.
The trees and shrubs that grow in saline coastal habitats in the tropics and subtropics are home to a great number of wild animals and a natural shelter to keep inner land from drying up. "The loss of mangroves has put this important ecosystem at the brink. It means many organisms have lost their habitats and breeding grounds, and the coast can no longer serve as a protective barrier," Jiang said.