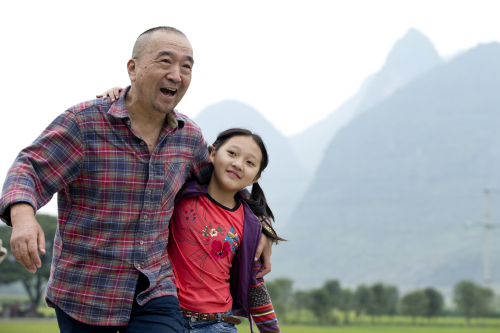 HAPPY JOURNEY: A frame from The Nightingale, featuring the grandfather played by Li Baotian and his granddaughter played by Yang Xinyi on a soul-finding journey (COURTESY OF THE PRODUCTION TEAM)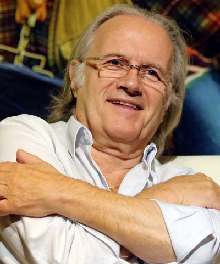 Philippe Muyl, director of The Nightingale(CFP)
When director Philippe Muyl heard his most recent film,
The Nightingale
, a Chinese-French joint production, was selected by China as its official foreign-language film entry for the Oscars, he was at his home in France. The movie is also known by its Chinese title Ye Ying and French title Le promeneur d'oiseau.
"It was incredible! I was very surprised and naturally very excited too," he said. That night, he barely slept a wink.
In April, Muyl served as a judge in the Fourth Beijing International Film Festival, but he was still taken aback that China would choose a film not directed by one of its countrymen for its submission to the Oscars.
Some commentators believe this sends out a positive signal that China's film industry has sincerely opened its doors wider and wider to the resources and talents that lie outside its borders.
The Nightingale is the second film co-produced by China and France after the two countries signed a film co-production treaty in Beijing in 2010.
Delightful surprise
The news came as a surprise to some Chinese moviegoers. Previously, many predicted that Diao Yinan's Golden Bear-winning Black Coal, Thin Ice or Zhang Yimou's Coming Home would be the most likely candidates.
Surprisingly, The Nightingale might win more awards than these films. It has been invited to more than 30 international film festivals, winning numerous positive reviews.
In April, it was rated as the best narrative feature in the 16th RiverRun International Film Festival, a regional event based in North Carolina of the United States, and the top award in the 54th Zlin Film Festival, an international film festival for children and youth held in the Czech Republic.
It received five nominations for awards at this year's Shanghai International Film Festival, including one for best film. The film's leading actor Li Baotian recently won a "media award" as chosen by journalists for his performance in the film.
So far, China's mainland has never won an Oscar in the foreign-language category.
In 1991, Ju Dou, a film directed by Zhang Yimou and starring Gong Li received an Oscar nomination in the category, which has been the first time that a Chinese movie has won the honor. In the 12 years since, seven Chinese-language films—all directed by either Zhang Yimou, Chen Kaige or Ang Lee—have received nominations, with only Lee's Crouching Tiger, Hidden Dragon winning the Oscar in 2000.
In 2003, Zhang's Hero received a nomination. Yet in the 11 years since, although Chinese-language films have been submitted by China's mainland, Hong Kong and Taiwan, none has been short-listed as finalists.
The choice to put The Nightingale forward has invoked speculations about China's selection criteria. Some thought that China's preference has shifted from big-budget to small-budget productions.
"In addition to [China's] intention to be represented by a co-produced film rather than a purely home-made one on the international film arena, another reason for the choice is that The Nightingale has showcased a sunny, heartwarming, upbeat China that is solving problems and pursuing happiness." said Muyl.
Even before coming to China to direct the film, he was certain it would be an adventure. Yet after arriving in China, Muyl found that "China was really not as same as what was reported in the news!" Hence, he felt he has the responsibility to "present the real China to the world."