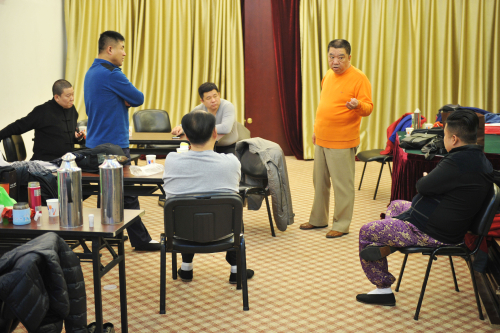 VETERAN'S GUIDANCE: Senior crosstalk actor Meng Fangui (second right) instructs young performers backstage in Beijing on November 14 (WEI YAO)
The next generation
For Li Kuan, crosstalk performance is in his blood, having been born into a family of performers in Beijing. "I have been surrounded by crosstalk every day since I was born. My family, my relatives and my parents' friends have all related to this art. I have mastered most of the necessary skills without special studies," he told Beijing Review.
Li Kuan is the apprentice of Li Jindou, who has been a friend of the family since Li Kuan was a boy. The obligation to inherit and develop this linguistic art in his generation weighs heavily on Li Kuan's mind.
"Underlying its jokes, traditional crosstalk has a hidden set of rules guiding performances that on the face of it, seem to be random. A successful crosstalk must have a core around which actors adopt various kinds of skills," Li Kuan explained. "But many of today's crosstalk pieces have a loose structure. They taste like fast food instead of a well-cooked dish."
In June 2014, Li Kuan founded a crosstalk club named Kuanhe Teahouse. This club performs on average 15 times a month in four different small theaters in Beijing. The club has 50 regular performers, including five famous senior performers. But it can sometimes play host to 70 performers, because many crosstalk masters like Meng will give special performances at Li Kuan's invitation.
"We are trying to combine traditional performance skills and rules with modern content. In this way, this traditional art can develop into the new era," said Li Kuan. He said the club doesn't aim to make a profit but acts as a vehicle to draw audiences to enjoy the charm of traditional crosstalk. Ticket prices for his club's shows are highly affordable. There are two different ticket prices, 50 yuan ($7.5) or 100 yuan ($15), based on different seating zones, with drinks included. On occasion, the club even gives out free tickets to attract a greater audience. When the cost of renting theaters is subtracted, the club can pay only a very limited salary to its members.
"Our performers are all diehard fans of this traditional art. Some of them have other jobs, and they come to my club only for the valuable opportunity to perform in a theater and to attain experience," said Li Kuan. His own performing partner is the student of a well-known Peking Opera performer. Traditional crosstalk requires actors to be able to interact with the audience and nimbly adjust their performances through close coordination with their partners, which calls for ample experience of performing live, he said.
Song Xiaofeng and Jiang Shaofeng are two young players in Li Kuan's club. They are the protégés of performers who themselves honed their craft under Li Jindou. Song was born in 1990 in north China's Hebei Province and Jiang was born 1987 in northeast China's Heilongjiang Province. In the beginning, both of them were merely avid fans of their masters.
"I was obsessed with my master's performances and asked him to teach me as his disciple. But my master required that I spend over a year in different theaters as a free audience member to train my sense of this art first. Then he believed I would be a qualified disciple and accepted me," recalled Jiang.
By day, Jiang is a performer in a large-scale amusement park. He is still a trainee. Song has been performing in the club since it was founded. He also has a job at a wedding planning company. "The club has provided precious opportunities for young performers like me. The guidance of those successful crosstalk masters, even on very simple issues, can be of lifelong benefit to us," Song said.
To Song and Jiang, their daytime jobs are merely a way of meeting their everyday needs so they can continue to pursue their true passion of performing crosstalk. Their most fervent desire now is to attain more income from performing crosstalk so that they may concentrate on refining their skills in a performing art with which they have fallen in love.
Email us at: dingying@bjreview.com