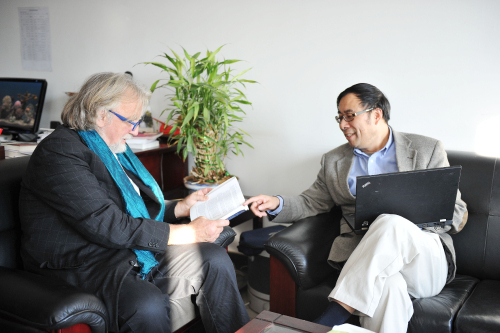 GLOBAL PSYCHOLOGY: Peng Kaiping (right), Dean of the Tsinghua University Department of Psychology, holds a discussion in his office in Beijing on November 18 with U.S. researcher Timothy Beneke (WEI YAO)
In the introduction to his 2004 book The Geography of Thought: How Asians and Westerners Think Differently…and Why, U.S. social psychologist Richard E. Nisbett describes how a "brilliant young student" from China prompted him to switch his focus to cultural psychology with the statement: "You know, the difference between you and me is that I think the world is a circle and you think it's a line."
For Nisbett, this perfectly illustrated the deterministic causality of Western thought versus the Asian cyclical understanding of phenomena, with entities in a constant flux that causes them to return to something resembling their original state. The student's name? Peng Kaiping, now Dean of the Tsinghua University Department of Psychology and formerly professor of psychology at University of California (UC), Berkeley.
Sitting in his office with friend Timothy Beneke, an author, researcher and journalist, Peng's intimidating reputation precedes him. Until 2007, he was the most referenced social psychologist at the associate professor level worldwide with almost 2,000 citations to his name. Numbered among Peng's present students is China's first female astronaut, Liu Yang.
On March 20, International Day of Happiness, Peng gave a keynote speech at the UN headquarters in New York City, becoming the first representative of China to speak about psychology and the country on the world stage. There, he presented his study on monitoring mood changes in a population of close to 200 million subjects with a multiple of variables for each participant, representing "the largest data set in the history of psychology and probably the history of science," according to Beneke.
The event was also a numerical blockbuster, owing to China Central Television viewing figures roughly equivalent to the study's population. This constitutes the largest single audience a psychologist has ever addressed—if only, as Peng self-deprecatingly remarked, "for five minutes."
A history of cooperation
Peng explained that international interaction and cooperation have played a large part in psychology's Chinese history. Famed scholar Cai Yuanpei, former President of Peking University, was one of the first Chinese pupils of the discipline, studying under pioneering German psychologist Wilhelm Wundt in 1911. He opened China's first psychology laboratory in Peking University in 1917. Peking University's peer Tsinghua created one of the nation's first psychology departments in 1926 and was instrumental in establishing the first psychological association and scholarly journal in China.
After the founding of the People's Republic in 1949, China switched to a Soviet-style university system that was technically oriented and psychology lay dormant for some years. In 1978, as part of normalizing relations between China and the United States, then U.S. President Jimmy Carter sent a science delegation to China led by psychologist Richard Atkinson.
When Atkinson and Peng met in 1998, the former related that late Chinese leader Deng Xiaoping had asked him in conversation what he did for a living. Hearing Atkinson's response and observing the psychologist's standing in the delegation, Deng became determined to reintroduce the subject in China, charging Peking University's Philosophy Department with the task in 1979.
The department opted for students strong in natural and social sciences. They selected a young man who had graduated top of central China's Hunan Province in both areas and intended to research geophysics to help alleviate the earthquakes that had so plagued his native region. After joining Peking University's Psychology Department, Peng went on to study in the United States in 1989, earning his postgraduate degrees from the University of Michigan, before joining the staff of UC Berkeley in 1997.
So what motivated Peng's return? He recalled how Taiwan philanthropist and UC Berkeley alumna Cher Wan made a donation to her alma mater, hoping it would pursue cooperation with Tsinghua in certain research areas. Realizing that he could use his work to the benefit of his homeland at a critical time in its transition, Peng leapt at the opportunity.
Impressed by Tsinghua's enthusiasm, Peng agreed to become the founding chair of the university's newly established Department of Psychology in 2008. He enlisted the help of his Berkeley colleagues Beneke and Professor Seth Roberts, a noted figure in nutrition and self-experimentation who passed away in April this year. Although Peng initially committed himself to three years, he soon found himself invested in the venture and decided to stay.