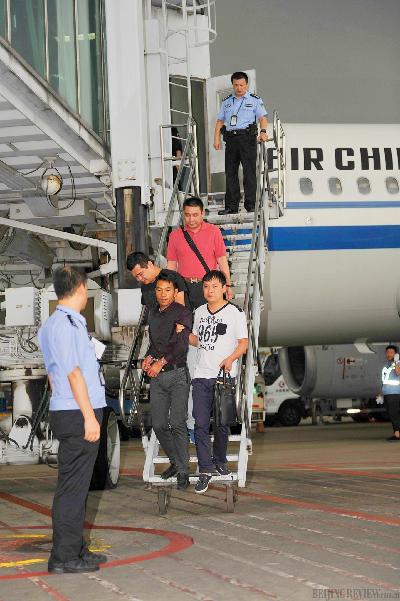 BROUGHT TO JUSTICE: Police officers escort a contract fraud suspect apprehended in Colombia from an airplane in Hangzhou, east China's Zhejiang Province, on September 2 (CNSPHOTO)
Earlier this year, the CPC Central Commission for Discipline Inspection (CCDI), the country's top corruption watchdog, had already turned its gaze overseas. In January, Wang Qishan, head of the commission, delivered the organization's work report, stressing that efforts in tracking down fugitive corrupt officials overseas and recovering stolen money should be intensified, so as to deter those attempting to flee.
The CPC Central Committee issued notices stipulating that officials whose spouses, or those who do not have spouses but whose children have emigrated to other countries, cannot be promoted to or hold certain positions. The Party hopes to prevent corruption as such officials are believed to be more likely to flee.
China launched an operation codenamed Fox Hunt 2014 in July to hunt corrupt officials and suspects in economic crimes that had already fled the country. The goal was to "block the last route of retreat" for corrupt officials.
According to data released by the Ministry of Public Security (MPS), as of December 4, 428 suspects had been apprehended in 60 countries and regions. Thirty-two fugitives had been at large for more than a decade, and 231 voluntarily surrendered themselves to police.
In October, Chinese judicial and public security authorities issued an ultimatum to criminals hiding abroad, including corrupt officials, urging them to give themselves up before December 1 in order to receive more lenient sentences.
Preliminary estimations by The Beijing News speculate that as of December 1, at least 335 fugitive economic criminals had been captured abroad, and of these, 154 had given themselves up to police.
On September 16, China joined the International Anti-Corruption Academy, an Austria-based institution providing anti-corruption education and research.
International response
China has called for more international cooperation in combating graft, including initiating the Beijing Declaration on Fighting Corruption. This has been supported by a number of countries.
Nations including Australia, Canada and the United States have sent a signal that the Asia-Pacific region is united against corruption by signing the declaration, said Tang Guoqiang, Chairman of China National Committee for Pacific Economic Cooperation, a member committee of the Pacific Economic Cooperation Council.
"Criminals don't stop at borders, so we must work together to stop them and fight graft internationally as well," said Max Baucus, U.S. Ambassador to China during an APEC meeting held in Beijing in November.
He said whether it is bribery, embezzlement, or the misuse of public funds, corruption is corrosive. It scares investors, stifles economic growth, decreases investment and trade, and costs jobs for people in all economies.
Recently, Australia agreed to assist China in capturing fugitives. The two countries' law enforcement authorities have agreed on a priority list of fugitives, who have taken residence in Australia with embezzled funds amounting to hundreds of millions of Australian dollars, Bruce Hill, Manager of the Australian Federal Police's Operations in Asia, told the Sydney Morning Herald.
China and Australia have already signed an extradition treaty, but it has not yet been ratified by the Australian Parliament. During President Xi's recent state visit to Australia, the Australian side said it would accelerate the ratification process, said Xu Hong, Director of the Treaty and Law Department of the Ministry of Foreign Affairs, at a press briefing on November 26.
Asian-Pacific economies are major destinations for corrupt officials fleeing abroad, especially the United States, Canada and Australia, none of which have signed or ratified extradition treaties with China, said Li Chengyan, a professor with Peking University.
"The United States has become the top destination for Chinese fugitives fleeing the law," said Liao Jinrong, Director General of the International Cooperation Bureau under the MPS.
Canada is also regarded as a haven for corrupt officials, who sometimes fly in with suitcases full of cash, according to China Daily. It reported that Toronto and Vancouver airports seized around $13 million in undeclared cash from Chinese nationals from April 2011 to early June 2012.
Some corrupt officials chose Hong Kong, Malaysia, Singapore or other Pacific islands as the initial stops of their escape routes, after obtaining false identities, then transferred to other destinations, said Wang Yukai, a professor with the Chinese Academy of Governance.