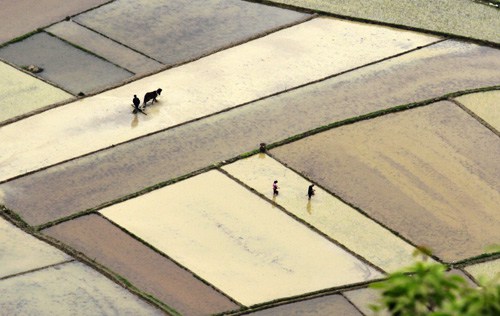 FARMING IS DIGNIFIED: Farmers in Donglan County, Guangxi Zhuang Autonomous Region, cultivate land. China has vowed to make farming more profitable and dignified profession (ZHOU ENGE)
A more pressing problem is the lack of necessary social security benefits after farmers move to cities. If they lose the right to contract land, social stability will be affected. Sticking to the family contract responsibility system can ensure farmers' rights to contract and protect their interests.
However, a new trend in China's agricultural production is that persons with the right to contract management will grow apart from those of the rights to manage. This calls for new measures to improve the basic rural management system.
Regarding this new situation, the conference proposed maintaining the land contract relations and protecting farmers' rights to occupy, use, earn from the contracted land, transfer land management rights and mortgage the right to contracted management. The transfer of land management rights and concentrated management of land should keep pace with the process of urbanization and the scale of rural labor transfer.
This is actually a warning to local governments: They should not blindly push forward land transfer in administrative ways and change arable land into land for other purposes without considering local economic and social development conditions.
Encouraging migration
Among the 1.3 billion people on the Chinese mainland, over 700 million people have a rural household registration, or hukou. As productivity in rural areas has been improved, many farmers have chosen to work in cities. Due to the dual household registration system between urban and rural areas, many people still have rural hukou although they are working in cities. They make their contributions to the development of cities, but cannot enjoy social security benefits that urban residents have. The government hopes to solve this problem by accelerating the process of urbanization.
The conference set up a goal to turn 100 million rural migrants into permanent urban residents by 2020.
According to Li Guoxiang, a researcher with the Rural Development Institute of the CASS, the methods through which the status of farmers can be changed into urban residents can be categorized as "passive urbanization" and "active urbanization."
Passive urbanization is led by the government through land expropriation, changing rural land into urban land and converting farmers into urban residents. Active urbanization involves farmers entering cities voluntarily. Young people who work in cities but have a rural hukou are the main force of active urbanization.
According to Li, to become urban residents, farmers in the active urbanization group should have stable jobs in cities with secure livelihood and are unwilling to go back home for farming in the future.
To facilitate these farmers' transitions into urban residents, the conference required the acceleration of the transformation of government functions and vigorous advance of administrative management innovations regarding farmers and the countryside. At present, related government departments are conducting research on the dual household registration system. China's reform of the hukou system will start soon.
Li thinks the most difficult task for the government will be to turn 100 million villagers-turned-workers permanently working in cities into real urban residents. If China's urbanization rate rises by 1 percentage point each year, there will be 14 million new villagers-turned-workers. Within the next seven years, the number of such workers will be about 100 million. According to the CASS figures, in the past five years, China's urbanization rate rose by 1.4 percentage points each year.
Li said the urbanization rate in the central and eastern regions is low at present, and in the future more farmers from these regions will become workers in cities as the urbanization rate will rise rapidly. Therefore, China must strengthen efforts to facilitate cities in central and western regions to turn these farmers into urban residents.
Email us at: lanxinzhen@bjreview.com
Six Major Goals
- Ensuring self-sufficiency for grain
Only when a country is self-sufficient in its food production can it take the initiative in food security and grasp the overall situation for economic and social growth.
- Adhering to the fundamental role of family operation
No others can replace the rural family in contracting land and no matter how the right to contract for management is transferred, the right to contract collective land belongs to rural families.
- Guaranteeing the red line for arable land at 120 million hectares
- Ensuring agricultural product quality and food security
The environment where agricultural products grow will be improved.
- Making agricultural operation more profitable so that farming can become a profession of dignity and the countryside can be a beautiful home where farmers can live and work in peace and plenty
- Turning 100 million villagers-turned-workers into permanent urban residents, and finishing urbanization for 100 million such workers in the central and western regions by 2020