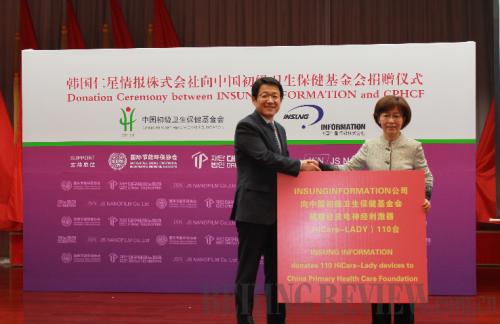 President of Insung Information Woo Jongyoon (left) and President of the Council of CPHCF Wang Jirong attend the donation ceremony on March 25 (FILE)
On March 25, Insung Information Co. Ltd., a South Korean IT infrastructure and solution services provider, donated its first batch of Hi-lady Care devices worth over 110,000 yuan ($17,800) to the Chinese Primary Health Care Foundation (CPHCF), supported by the International Energy Conservation Environmental Protection Association (IEEPA), Daegu Technical Park and JS Nanofilm, a Daegu-based company. The two sides agreed that, on the basis of the first batch of donation, the number of the second batch will be determined according to the feedback and needs of the first batch of users.
According to Wang Jirong, President of the Council of CPHCF, the foundation has been committed to carrying out medical service and public health activities and advancing public health programs in poverty-stricken regions in China. The CPHCF will, based on the requirement of the donor, maximize the benefits of public welfare and give feedback as soon as possible. "Hopefully communication can be built between Chinese and South Korean charities so as to contribute to public welfare, social harmony and realization of the charity dream of China," said Wang.
Sun Guizhen, Vice President of Beijing You'an Hospital, briefly introduced the hospital's contribution to AIDS prevention and control and cancer treatment as well as their endeavors in combating SARS. She mentioned that the donated devices would be delivered to the nurse stations and feedback would be used to treat dysmenorrhea. Sun also expressed her gratitude to Insung Information for care for women and endeavors in medical technology transfer across the border.
IEEPA Secretary General Li Junyang introduced his experience in and the importance of promoting China-South Korea cooperation and exchanges. He said that four years of cooperation with theDaegu government, the industrial park and the environmental community has produced positive results, which have not only provided support to South Korean enterprises entering the Chinese market but also established a cooperation platform for R&D cooperation between South Korea and China.
Li also said, after the signing of China-South Korea FTA, South Korea medical enterprises will find it much easier to enter into the Chinese market. About 8.7 billion yuan ($1.4 billion) tariffs have been exempted in terms of public health products. This has given a pricing advantage to small and medium-sized enterprises with a hi-tech capacity, thus bringing the export cooperation between China and South Korea to new heights in the future.