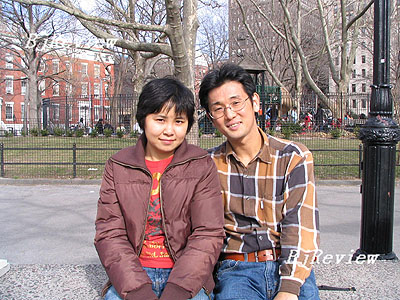 They look just like any other average young Chinese couple when you first meet them in New York City. But wait, they are speaking Japanese so they must be from Japan. In fact, you are told that both of your guesses are wrong. This young couple belongs to both countries---a Chinese wife and a Japanese husband. A union that was considered unthinkable 50 years ago is no longer a rare form of international marriage these days.
Dong Wei, now in her mid-20s, was born and raised in northeast China's Heilongjiang Province. At 19, she was given the chance to go to Japan for further study following her high school graduation.
"I had hoped to see the world as much as possible when I was young," Dong said.
Japan seemed a good choice, she recounted. It would be closer to her home and cheaper in tuition compared with American and European universities. It was the turn of the millennium and she was filled with the hopes and dreams of a beautiful, international life. She made friends quickly, and one day at a get-together with her new companions she met Tadashi Hirata.
"When I first met him in 2001, he was exactly like who my 'dream husband' should be," Dong recalled. Pressed to describe "dream husband" qualities, she simply said, "You know, everything about him just fits well."
Hirata, a self-described "typical Japanese guy," felt the sting of Cupid's arrows as well. Dong was "cute," and the two hit it off immediately. As the song goes: first comes love, then comes marriage. Their wedding took place in Japan, a year after they met, with the blessing of both families. The procedures and paperwork were not overly complicated, Dong said. She needed proof from a local government agency in her hometown that she was single, and the signatures of two guarantors.
A culture clash is what most think of when imagining cross-national marriages, especially two countries with a painful history of war. Differences gain more scrutiny than similarities in upbringing. Dong and Hirata said they too could see the differences despite their honeymoon haze.
Hirata said he began to notice most the difference in dining habits. It was simple, little things: the manner of dining, the way of placing chopsticks, and the use of various dishes.
"These cultural differences were kind of fun, not a conflict, and both of us have now gotten used to it," Hirata told Beijing Review. He felt that in his family, the difference between men and women was much bigger than the differences between Japanese and Chinese culture.
Dong agreed with her husband on this point. "Marriage is between a man and a woman, not between one country and another," she joked.
She also said that though they did run into some differences in their daily habits, they were "no big deal."