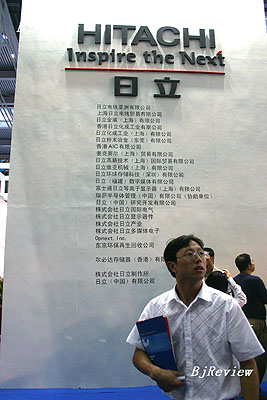 Since China and Japan established diplomatic relations 35 years ago, especially during the past 20-plus years since China initiated its reform and opening-up policy, trade and economic relations between China and Japan have developed quite quickly.
In 2006, Sino-Japanese trade volume reached $207.36 billion, increasing 12.5 percent from a year earlier. China exported $91.64 billion to Japan, up 9.1 percent from the previous year, while China imported $115.72 billion from Japan, for a yearly growth rate of 15.2 percent. China is Japan's second biggest importer and Japan is China's third biggest importer.
Japan is now China's second biggest investor, but its total investment in China in 2006, $4.598 billion, was 29.6 percent lower than that in 2005. Japan has been China's main technology exporter in recent years: one fifth of China's imported technologies and one sixth of China's imported high technologies are from Japan. Trade and economic relations between the two countries are formed on the basis of a strong complementarity.
This is an outstanding characteristic of their trade and economic ties. But, as economic globalization expands and China's economy develops steadily, the content of that complementary relationship is being gradually altered.
First, the trade structure between the two is changing. In the 1980s, China exported crude oil, coal and agricultural byproducts in return for Japan's mechanical equipment, automobiles, home electrical appliances and steel. In the 1990s, industrial products took up a greater proportion of China's export structure and primary products were no longer the main export products to Japan.
Last year, China's exports to Japan centered on mechanical and electrical equipment and spare parts, textile raw materials and products, non-precious metals and related products, foods and beverages, and cigarettes and alcohol. Meanwhile, China imported mechanical, electrical, audio and video equipment and spare parts, non-precious metals and related products, chemical industrial products, and optical and medical equipment from Japan. What China imports from Japan are capital- and technology-intensive products, including IT products and mechanical equipment, while Japan imports relatively labor-intensive products from China.
Second, direct investment complements the bilateral trade ties. In recent years, as China's economy has developed, its industrial structure has been upgraded, with an enlargement of the market scale. Japan's domestic industrial structure has made adjustments as well, as Japanese enterprises focus on setting up a global labor division system. Thus, the complementary nature of Sino-Japanese ties in the investment field has become more obvious, and the investment standard is higher. Evidence shows that Japanese enterprises' direct investment in China favors the development of Sino-Japanese trade. The growth of China's exports to Japan on some level is a benefit of Japanese direct investment, which is also the inevitable result of a complementary advantage and cooperation mutually beneficial to China and Japan.
Although bilateral trade ties have developed to a certain scale, these ties have degraded in recent years.
Trade was the first field to be influenced. In 2006, Sino-Japanese trade volume grew 12.5 percent on a year-on-year basis, which was lower than the average growth rate of such trade during the previous 12 years. Meanwhile, the Sino-Japanese trade volume was only 11.8 percent of China's total trade volume last year, while in 1994 the proportion was 24 percent.
Recently, Sino-Japanese political relations have encountered some problems, which have influenced the development of bilateral trade and economic relations. However, the degraded trade and economic ties cannot be regarded as the direct result of changed political relations.
Japan's importance as one of China's main trade partners has slipped. On the Japanese side, China is its biggest trade partner, which means the bilateral trade ties need to be upgraded. The reasons for the differing situations are: First, Japan is a much smaller market than the United States and the European Union (EU) and has less room for growth; Second, China's exports to Japan are no longer the biggest part of China's total exports, and the Japanese market is of less importance to China. At the same time, the Chinese market is becoming more important to Japan.
The second field affected is investment. In 2006, Japanese investment in China saw growth, but the growth rate of direct investment slowed. First, the Japanese Government thought there was a risk in China's economic development-such problems as the economic structure, the widening gap between urban and rural areas, the increase in the number of laid-off workers in cities, a shortage of power and water resources and environmental pollution. Attitude from the Japanese Government exerted some influence on the decision-making in investment by some Japanese enterprises. Second, Japanese enterprises began to invest in other countries with new markets and abundant resources, such as Brazil, Russia, India and South Africa. This trend diversified Japan's investment destinations. Third, as Japan's domestic economic situation improved, some enterprises moved their foreign investment projects with high added-value back to their own country. These three factors jointly affected the growth rate of Japan's investment in China in 2006.
The third affected field is capital cooperation between the governments, which obviously declined in recent years. The Japanese Government set stricter examination standards for projects in China while the amount provided declined sharply. On the other hand, the Japanese Government is providing more and more economic aid to Viet Nam and India.
Former Japanese Prime Minister Junichiro Koizumi once said that China's economic development in recent years was so outstanding that it should be removed from Japan's governmental capital cooperation list. This remark directly caused the decline in Sino-Japanese governmental capital cooperation in 2005. Now, the Japanese Government has basically decided that it will stop providing government loans and free technical cooperation to China in 2008. Therefore, governmental capital cooperation will inevitably cool down.
The fourth field is energy cooperation. China's rapid economic development in recent years has led to a real and potential need for energy; thus, energy conservation and environmental protection have become the hot topics for China, Asia and the world. Meanwhile, Japan owns fairly advanced technologies in these areas. If these technologies are introduced to China, they can contribute greatly to the sustainable development of the Chinese economy, as well as the balance of world energy demand and supply. So far, bilateral cooperation in this area is quite limited.
Compared with other trade partners such as the EU, China's economic ties with Japan have indeed slowed down. However, past evidence has shown that Sino-Japanese economic cooperation benefits both sides. If the two countries can jointly overcome their political problems and develop their complementary economies, the prospects for trade and economic cooperation will be very bright.
This year marks the 35th anniversary of the normalization of Sino-Japanese diplomatic relations. The two neighbors' relations are crucial to peace, security and economic development in the Asia-Pacific region. In 2006, Japanese Prime Minister Shinzo Abe's visit to China was considered an "ice-breaking tour" that marked the first step toward the "re-normalization" of the two countries' diplomatic relationship. Later, Chinese President Hu Jintao and Prime Minister Abe reached a common understanding at the APEC Summit in Hanoi on setting up a strategic and mutually beneficial relationship and promoting communication and cooperation in different fields. This month, Chinese Premier Wen Jiabao pays an official visit to Japan, which is regarded as an "ice-melting tour" that will create a wider space and beneficial environment for the development of bilateral trade and economic relations.
China puts a high priority on Sino-Japanese relations and actively promotes the rapid development of bilateral trade and economic relations. The two countries should expand and strengthen their cooperation in direct investment, mutually beneficial cooperation on energy conservation and environmental protection and the service industry, so as to promote the healthy and stable development of their trade and economic ties.
The author is with the Chinese Academy of International Trade and Economic Cooperation, the Ministry of Commerce