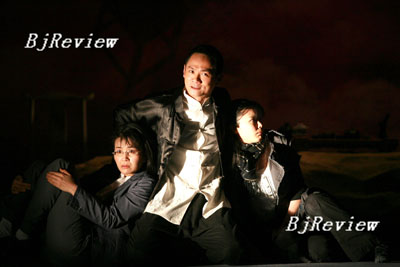 In 1906, some Chinese students who were studying in Japan organized an acting troupe called the "Spring Willow Society (chun liu she)." They staged the plays La traviata and Uncle Tom's Cabin in Tokyo in 1907, which is regarded as the birth of modern Chinese theater. Drama, as a friendly bridge, linked the two countries a century ago.
2007 is also the 35th anniversary of the establishment of diplomatic relations between China and Japan, and drama is again serving as a way to strengthen cultural ties between the two countries. This time, the stage is not only in Japan, but also in China. Talents of the most daring theater practitioners from China and Japan have been invited to embark on a venture that will open a new era for Sino-Japanese drama.
Co-written and co-directed by Chinese director Li Liuyi and Japanese director Oriza Hirata, the drama Lost Village premiered at the Hong Kong Arts Festival in March to the acclaim of audiences. The play offers a new and artistic exploration of the relations between the two nations.
The story takes place in a small, remote village in China where people make a living by selling fake antiques. When a historic site is discovered during the construction of a Japanese factory, many people from both countries are attracted to the village for different purposes, and coincidentally meet in a local tea house. Then come the stories, happy and sad, absurd and impressive.
San Ye, an antiques dealer, spends his whole life trying to make money and achieve a high social status. Li Hua, the manager of the tea house who was abandoned by her husband, looks forward to his return and a peaceful life.
Wei Zi is eager to become a policeman, and his life's goal is to maintain public order and be in a position of authority. The amateur archeologist wants nothing material, and he fancies that the artifacts might come from another part of the universe. Meanwhile, Mr. and Mrs. Sakurada from Japan just want to find their daughter here. The relics that are buried underground not only represent a piece of history but also shoulder everyone's hopes.
"The drama has no detailed plot, it just tells fantasies," Director Li said. "It describes different people's opinions of history, and calls for peace in the global village. Each of the 13 characters, by their own story, expresses the notion that everybody has a dream."
Li is regarded as one of the representatives of the new generation of theater directors of China. He has explored a new way of presenting drama based on traditional theater ideas. One of his representative plays, Crazy Mahjong was performed in Japan in 2001 and again in 2003. He also boldly mixes Peking Opera with dramas in such plays as Hua Mulan and Mu Guiying.
Li said that he and Mr. Hirata have been friends for many years. "His dramas focus more on the superposition of life conditions, while I pay more attention to spiritual superposition. But in essence, our ideas have many things in common," he said.
Director Hirata has won many prizes internationally for his works. He developed "contemporary colloquial theater theory," which has had a strong influence on Japanese theater. "Drama is an import from the West for both China and Japan. What we should do is to make it closer to our own lives. I appreciate Li's abstract style in making dramas; that is quite new and creative," he said.