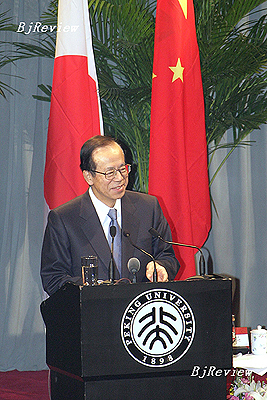 Japanese Prime Minister Yasuo Fukuda paid his first state visit to China on December 27-30, 2007, with a packed schedule of meetings that he had hoped would cement his country's official bonds with China and help him establish personal trust with the Chinese.
During their talks in Beijing, Fukuda and Chinese President Hu Jintao, Premier Wen Jiabao and Chairman of the National People's Congress Standing Committee Wu Bangguo reached a broad consensus on constructing and developing "strategic and mutually beneficial" relations between China and Japan and charted the future course for their relations.
Fukada's four-day tour also took him to the port city of Tianjin, where he visited a factory operated by a joint venture between Toyota Motor Corp. and China's First Automobile Works, and Qufu, Shandong Province, the birthplace of Confucius.
Chinese international affairs experts hailed the success of Fukuda's visit, saying it ushered an early spring into China-Japan relations, which have just been put back on track after years of stagnation. But the two Asian neighbors still face major challenges while embracing new opportunities to warm their relations, they said.
Fukuda's visit heralded the advent of spring for China-Japan relations, said Liu Jiangyong, a research fellow specializing in Japanese studies at the Institute of International Studies at Tsinghua University. Fukada focused on political topics when he held talks with Chinese leaders in Beijing. In Tianjin, home to many enterprises funded by Japanese investment, he encouraged Japanese investors and professed support for China's reform and opening up to try to boost economic ties between the two countries. Later in Qufu, Fukada underlined the two nations' shared cultural traditions. Liu said.
During Hu's meeting with Fukuda, the Chinese president said that political leaders on both sides had a duty to develop long-term, stable and neighborly relations. He said they should make concrete efforts to enhance their dialogues and consultations, strengthen mutual understanding and trust and appropriately handle major sensitive matters in their bilateral relations.
In what he called "a heart-to-heart dialogue," Fukuda promised Premier Wen that he was determined to treat bilateral relations earnestly in the year to come. In turn, Wen proposed that China and Japan should maintain the momentum of their good relations through mutual visits and meetings by the two countries' state leaders and conduct high-level coordination on issues of common concern to enhance political mutual trust. He also suggested that China and Japan should cooperate in areas such as energy, the environment, finance, high technology, telecommunications and intellectual property protection. The two countries also should carry out further personnel exchanges to strengthen their friendship, Wen said.
After their talks, Wen and Fukuda signed three cooperation documents in the fields of youth exchange, climate change and energy research. According to the agreements, Japan will help China train 10,000 young people on energy-saving and environmental protection technologies in three years. In addition, about 50 young Chinese researchers on climate change will be invited to visit Japan annually in the following four years.
Wen and Fukuda also reached a new consensus on the demarcation of the East China Sea, which has long been a point of contention in the two countries' relations. They agreed to elevate consultations to the vice ministerial level and strive for an early solution to the issue.
Addressing the two countries' long-time disagreement on wartime history, Fukuda said Japan would "very earnestly" reflect on the agonizing part of history and continue to follow the path of peaceful development so as to establish "forward-looking China-Japan relations."
Fukuda also said Japan would give no support to the claims of "one China, one Taiwan," "Taiwan independence" or the Taiwan authorities' attempts to join the UN and seek UN membership through a referendum, a position highly appreciated by the Chinese side.
It was the first time a Japanese prime minister made a clear-cut statement on the referendum, Liu said. Given the sensitive situation across the Taiwan Straits, the Japanese Government has realized that it should honor the principles enshrined in the important political documents signed between China and Japan to establish mutual trust, he said.
Taiwan leader Chen Shui-bian's insistence on a "pro-independence" stance despite international opposition is detrimental to Japan's national interests, which call for peace and stability across the straits, he added.
Warming ties
Since Junichiro Koizumi stepped down as prime minister in 2006, Sino-Japanese relations have been in an upward spiral. Fukuda's immediate predecessor, Shinzo Abe, paid an "ice-breaking" visit to China in October 2006 shortly after he took office. Chinese Premier Wen Jiabao visited Japan in April 2007, a trip hailed as "ice-melting" by the Chinese media.
At the end of August, Defense Minister Cao Gangchuan paid an official goodwill visit to Japan, the first for a Chinese defense minister since 1998. In November, the missile destroyer Shenzhen became the first Chinese warship to visit Japan since the founding of the People's Republic of China in 1949. A Japanese delegation led by Foreign Minister Masahiko Komura attended the first China-Japan high-level economic dialogue in Beijing in early December. This dialogue mechanism was agreed upon between Wen and Abe during the former's trip to Japan in April.
Fukuda, who assumed office in September 2007 following Abe's abrupt resignation, attaches great importance to developing strategic and mutually beneficial relations with China, Liu said. Notably, he has promised not to visit the Yasukuni Shrine in sharp contrast to Koizumi. The shrine honors Japan's war dead, including Class A war criminals from World War II, and has long been a source of friction between Japan and its Asian neighbors. Koizumi paid homage to the shrine each year while he was in office from 2001 to 2006, plunging China-Japan relations to a low point.
Fukuda also no longer uses controversial concepts such as "value-oriented diplomacy," "four-nation alliance," which groups Japan, the United States, India and Australia, and "arc of freedom and prosperity." Instead he has taken the initiative to develop cooperative relations with China, Liu said. In his speech at Peking University on December 28, Fukada called on the two countries become "creative partners" in building Asia and the world's future.
China and Japan signed the Treaty of Peace and Friendship in 1978 when Fukada's late father, Takeo Fukuda, was Japan's prime minister. Influenced by his father, Fukuda sees great value in promoting Japan's relations with Asian countries, Liu said. He has already vowed to make Japan-U.S. alliance and its Asian diplomacy "resonate with each other."
Although Japan-U.S. relations are still the axis of Japan's diplomacy today, Japan's economic ties with China keep expanding, Liu said. China has surpassed the United States to become Japan's biggest trading partner, according to Japanese government statistics. In terms of business and trade, China's importance to Japan, a country that relies heavily on overseas markets, is self-evident, he added.
Opportunities and challenges
At present, China and Japan both face new opportunities and fresh challenges to upgrade their relations, said Jin Xide, Deputy Director of the Institute of Japanese Studies under the Chinese Academy of Social Sciences. The key for them to forge strategic reconciliation and cooperation lies not only in the appropriate handling of the structural conflicts of their practical interests, but also in the elimination of the two countries' emotional and ideological estrangement. Whether China can accept Japan as a "normal country" and whether Japan will drop its policy of "containing China in collaboration with the United States" will continue to be major concerns for both countries in the new century, he said.
Over the past dozen years, Japanese political elites have been unable to adapt themselves to China's development and have responded excessively to and even categorically rejected the trend, Jin said. Today, in light of the continued growth of China's international influence, they are putting forward new solutions. While some have questioned Fukuda's abandonment of "value-oriented diplomacy," many insightful people suggest that China and Japan should "co-chair" East Asia. The policy considerations of Japanese politicians show that they are switching to a more objective and somber view of China and increasingly accepting the reality of China's rise, Jin said.
Huo Jiangang, a Japanese affairs expert at the China Institutes of Contemporary International Relations, identified three major challenges facing China-Japan relations. First, Japanese right-wing conservatives disapprove of Fukuda's new foreign policy and are trying to prevent him from going too far, he said. Whether Fukuda will remain long in office is open to question. He is haunted by many domestic problems such as the opposition's challenge of the new antiterrorism bill and the ongoing pension scandal, in which the government lost track of the pension records of millions of beneficiaries. Since the ruling Liberal Democratic Party has lost control of the parliament's upper house, Fukuda is considered a weak prime minister hardly able to introduce any significant political initiatives.
Second, a general election for the more powerful lower house of the Japanese Diet is likely to be called in 2008. Whether Fukuda's Liberal Democratic Party can win the election is difficult to predict, Huo said.
Third, sensitive diplomatic questions, including Taiwan and the East China Sea, will also pose challenges to China-Japan relations, he added.
Despite these uncertainties, Liu believes 2008 will be a "big year" for Sino-Japanese relations. It will mark the 30th anniversary of the signing of the China-Japan Treaty of Peace and Friendship. It will also see the two countries further promote their youth exchanges as they observe the China-Japan Friendly Exchange Year of the Youth.
The upcoming Beijing Olympics is also expected to have a positive effect on the two countries' exchanges. And Hu is scheduled to visit Japan in the spring when the "cherry blossoms are in full bloom." With all these events, 2008 will be a year of opportunity for China and Japan to strengthen their bilateral relations, Liu said.