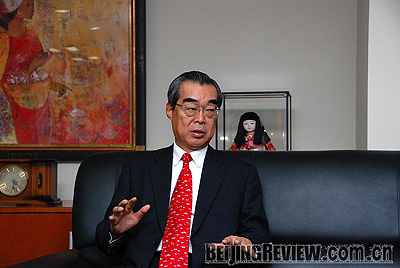 Nobuo Kitagawa, General Manager of Sumitomo China
During his five-day state visit to Japan on May 6-10, Chinese President Hu Jintao stressed that China and Japan should explore new areas of cooperation to accelerate bilateral economic relations. As one of the five largest Japanese trading companies, Sumitomo Corp. (Sumitomo) has extended its footprint to China through its subsidiaries since 1955. On May 9, Nobuo Kitagawa, General Manager of Sumitomo China and former Chairman of Japan China Chamber of Commerce and Industry, spoke with Beijing Review reporter Miao Xiaoyang, sharing his opinions on the Sino-Japanese trade relations and prospect on future development of Sumitomo in China.
Beijing Review: Would you please brief us on Sumitomo's development in China?
Nobuo Kitagawa: Sumitomo established trade links with China as early as 1955 when its wholly owned subsidiary--Daika Trading Corp.--commenced cooperation with China. In 1972, Sumitomo pledged to comply with the four requirements on Japan-China trade raised by then Chinese Premier Zhou Enlai, for which it was honored "Friendly Trading Companies" by the Chinese Government. Since then, it has begun to make direct contact with China and set up offices in Beijing and Shanghai consecutively. In 1990, all offices of Sumitomo in China became legal entities, facilitating its expansion in the country.
Now, Sumitomo owns nine legal entities and four offices, together referred to as Sumitomo Group. Keen on investments in China, Sumitomo has invested $450 million into more than 170 projects in China.
The reform and opening up have continuously propped up China's economic boom. Sumitomo is determined to make bolder moves on trade and investment in China. According to the development plan, Sumitomo's business volume is set to double by 2010.
As a composite trading corporation, Sumitomo operates on the Chinese market through five large departments. Beside, Sumitomo has taken four areas, automobile industry, IT industry, energy and resource industry, and environmental protection, as its strategic priorities in China.
As one of the largest groups in Japan, what kind of role has Sumitomo played in promoting trade and investment between China and Japan?
The Japan-China cooperation can add fuel to China's economic development. Extending support to key areas that China needs to work with Japan also fits into our principle of mutual benefit. This can not only serve the national interests of China but also spur the expansion of Sumitomo in China.
Your company has been active in charity undertakings in China. What is the consideration behind this? Can you tell us some future plans in this regard?
Sumitomo has raked in a bumper harvest from trade with China. As a return, part of our profits is donated to make contributions to the development of Chinese society, which accords with our corporate culture.
Sumitomo started its charity undertakings in China by offering scholarships to Chinese university and college students. Currently, more than 400 students from around 20 universities and colleges can enjoy Sumitomo scholarships. The group also sponsors theme lectures on Chinese campuses. For example, we initiated lectures titled "Social Responsibilities of Enterprises" in cooperation with Business School of Nankai University. We also joined hands with Tsinghua University to organize lectures titled "Leadership."
Our plan that has yet to be revealed is to help Chinese students from poverty-stricken areas. For example, senior high school students in Ningxia Hui Autonomous Region who have economic difficulties will be offered financial aid to attend university or colleges. Around 700,000 yuan ($100,000) will be donated annually to help middle students from impoverished families and build primary schools in poverty-stricken regions.
The Japan China Chamber of Commerce and Industry with more than 700 members is also playing an active role in this regard. The chamber, including Sumitomo, has donated 200 million yen ($1.91 million) to sponsor Chinese students to visit Japan. In May and November 2007, about 60 Chinese students from 11 universities and colleges were organized to visit Japan. Similar activities will take place twice this year. The exchange project will go on for five years, bringing more than 400 Chinese students to experience the Japanese culture.
When China was battered by flood in 2007 and snowstorm at the beginning of 2008, the chamber donated a total of 1.2 million yuan ($171,000) to the disaster-stricken areas.
You were chairman of the Japan China Chamber of Commerce and Industry in 2007. What is your impression of China's current investment environment? Which aspects should be improved? What are the major concerns when Japanese companies make investment strategies in China?
I think great improvements have taken place to China's current investment environment in comparison with that five or 10 years ago. Still, several problems remain.
First, as a developing country, China's legal system has much room for improvement. The legal deficiency is of concern to Japanese enterprises investing in China. Most of them feel that it is difficult to adapt to the ever-changing laws and regulations. However, the painstaking efforts being made by the Chinese Government to improve the legal system are evident.
Second, doing business in China is subjected to approvals of either the central or the local governments, which may be time and energy consuming. Despite the great progress made when compared with the past, a more effective approval procedure can help raise the efficiency of doing business and bring it up to par with other countries.
Foreign enterprises should also align their investment strategies with the upheaval of China's society and economy. In the past, Japanese investors mostly manufactured their products at a low cost in China and then sold them in Japan, taking advantage of China's cheap labor. Today, however, rising labor costs are eating into their profit margins and hurting China's advantage as the world's manufacturing base. Nevertheless, China will maintain its attractiveness for foreign investments due to a large market. Now many Japanese enterprises have switched selling to the Chinese market. Generally speaking, the outlook for foreign investments to China is positive.
Which areas are mutually beneficial to the bilateral trade between China and Japan?
What prevails among Japanese investors is to explore the Chinese market with their Made-in-China products, which is mutually beneficial to both China and Japan.
The past three years have seen the Japanese direct investments to China decline by 20 percent annually. This is a normal phenomenon, as the investment fever usually subsides after a round of large-scale investments is completed, such as manufacturing of automobiles, semi-conductors, LCD screens and IT production lines. I believe that the Japanese investments to China will rally.
What China needs is the introduction of advanced technologies on environmental protection, and Japan is also ready to embrace more cooperation with China.
It is a popular belief that President Hu's state visit to Japan benefits bilateral economic relations. Do you think that Sino-Japanese political relations have an impact on their economic ties?
President Hu's visit is bound to create an enabling environment for Japan-China relations. Despite political friction, the bilateral economic relations remain on good terms. But the cold political climate and hot economic interaction cannot last long. Economic relations will sweeten only on condition of sound political relations.
The "ice-breaking" visit of former Japanese Prime Minister Shinzo Abe to China in October 2006 split the stalemate of Japan-China relations and brought the bilateral relations back to normal. April 2007 saw Chinese Premier Wen Jiabao's successful "ice-thawing" visit to Japan. In December 2007, Prime Minister Yasuo Fukuda's visit to China further pushed forward the bilateral relations and was called a "spring-greeting" visit. Hu's visit to Japan on May 6-10 can be read as a "warm-spring" visit, heralding a prosperous season for the future relations between Japan and China.
About Nobuo Kitagawa
Born on April 8, 1948, Nobuo Kitagawa graduated from Kobe University and entered Sumitomo Corp. in April 1972. Between April 2007 and April 2008, he served as chairman of the Japan China Chamber of Commerce. In April 2008, Kitagawa was appointed CEO of Sumitomo and general manager Sumitomo China.